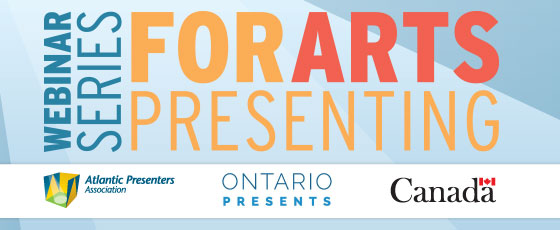 This webinar outlines the biggest obstacles to an effective grant application, and how to avoid them.  How to frame your applications to achieve higher rates of success, through language, collateral documents and research.  Contribution agreements - what obligations they confer, and the reporting process.  We will also cover foundations, and how to source appropriate matches for your projects.  Finally, advocacy in your region, and ongoing funder relationships.
Additional Materials
Facilitator: Avril Helbig
Avril is a funding specialist with over 30 years experience.  Her clients include institutions; arts presenters and facilities; arts service organizations and networks; festivals and producers; touring and producing artists, and for-profit management and agency firms. 
Avril's particular services include prospecting; developing and executing grant strategies and applications;  creating and aligning financial reporting templates with specific fund requirements; interim and final progress reporting; and maintaining funder relationships.  She works with all levels of government funding, and have received capital, project, operational, organizational, and special initiative funding from municipal, provincial and federal funders both within and outside of the arts and culture envelope.
Avril has spent 30 years in cultural industries, and her experiences range from heading up  Deutsche Grammophone Records in Canada, to having an agency and producing international tours for artists from all over the world.