The Ontario Presents 2018 Spring Retreat took place in Kingston, Ontario. Big thanks to the City of Kingston and the Grand Theatre, and particularly to Jayson Duggan and Jenny Pedler, for hosting!
Kingston is situated on the traditional territory of Anishinaabe and Haudenosaunee peoples and we were grateful to be able to gather on that land.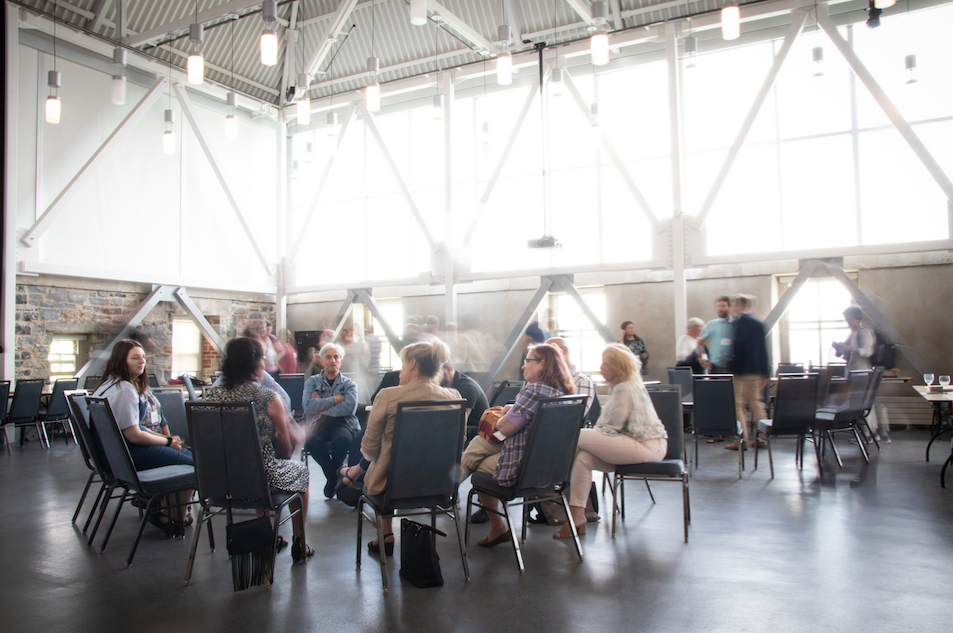 Annual General Meeting
Tuesday afternoon kicked off with Ontario Presents' 2018 AGM at the Grand Theatre. Warren Garrett, Ronnie Brown and Glenn Brown brought us updates on what has been a very busy and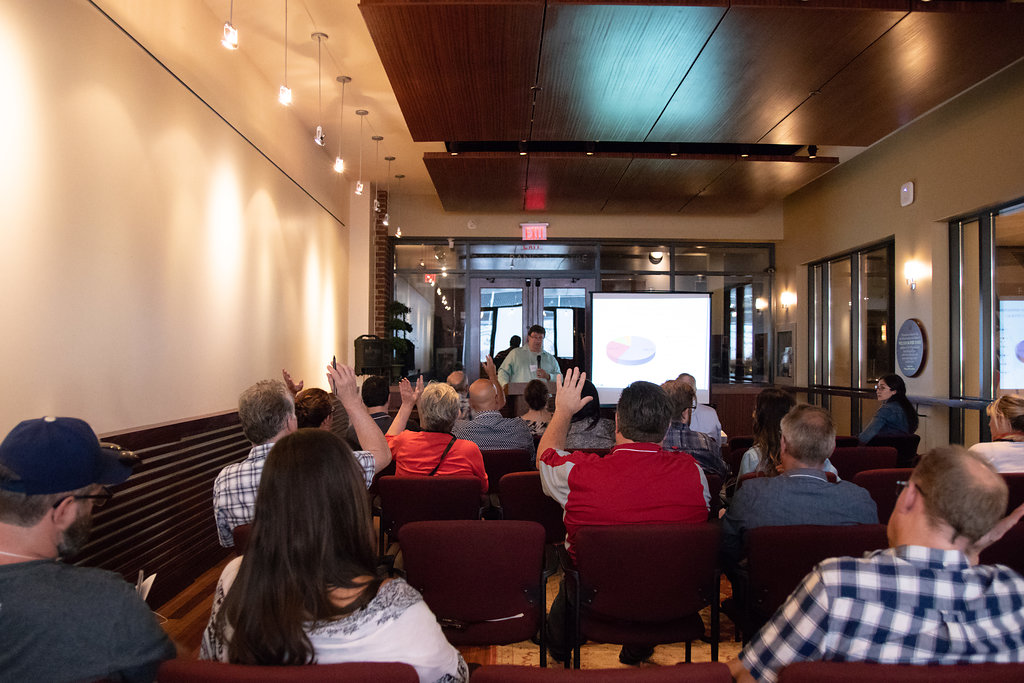 exciting year for Ontario Presents. Warren took us through the 2017/18 annual report, drawing attention to OP's network development initiatives, such as the Community Presenters' Network, and our new operating funding from the Canada Council for the Arts, which will support new practice development initiatives and other programs that increase opportunities for artists.
Glenn took us through OP's financial statements, congratulating the staff and board on reversing last year's deficit and finishing the year with a modest surplus. Many thanks to the staff and board – especially Warren Garrett and Deb Daub – for their work as we transitioned to new, online-oriented bookkeeping services.
Click here  to read the 2017/18 Annual Report.
Click here to see the detailed financial statements.
Community Engagement with Jumblies Theatre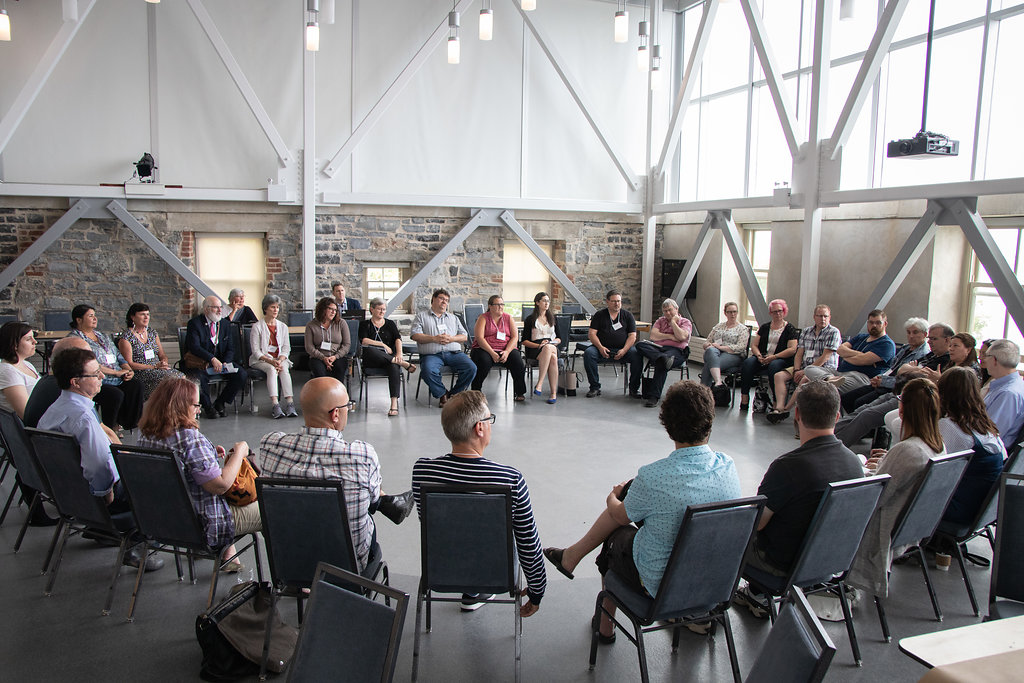 On Wednesday, we gathered in the beautiful, historical Tett Centre for Creativity & Learning.  We were honoured to be welcomed by Deb St. Amant (Bezhig Waabshke Ma'iingan Gewetigaabo), Elder-in-Residence at Queen's Faculty of Education.
The morning session was led by Ruth Howard, the founder and Artistic Director of Jumblies Theatre. Ruth introduced us to the work of Jumblies, which facilitates community engaged arts projects in Toronto and across Canada. Jumblies works in the spirit of active inclusion and makes art "with for and about people and places" through long processes of connecting, researching, and finding out what is important to community members. They prioritize sustainability, and build in a legacy year to the funding of each project to ensure that the impact can continue long-term.
In the afternoon, conversation cafés were led by Rachel Marks, Dan Watson, and Deb St. Amant.
Conversation Cafes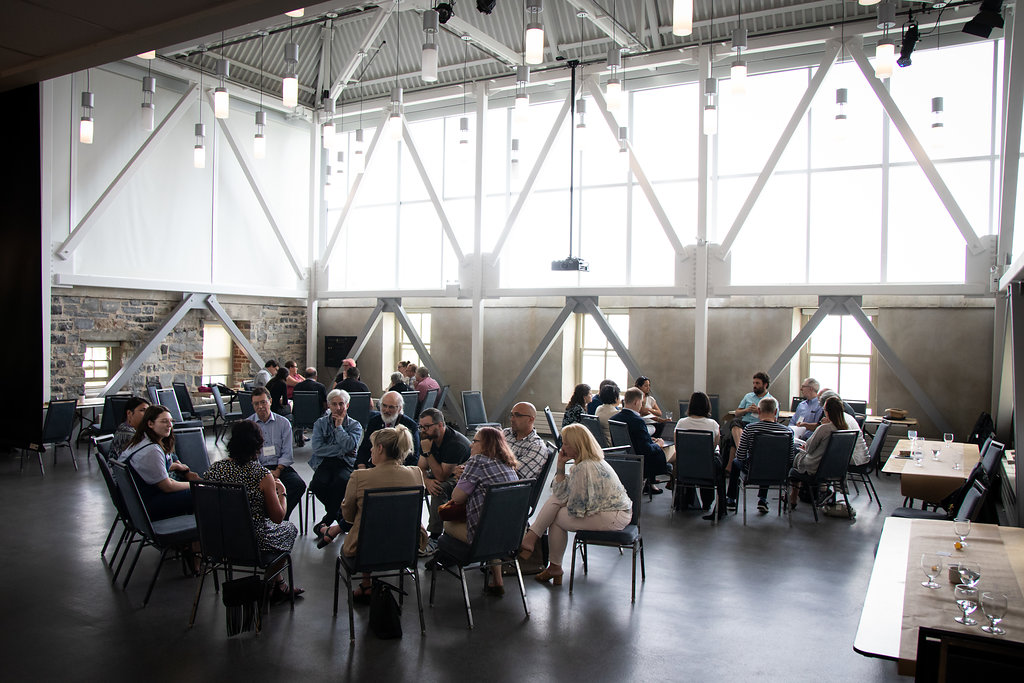 Relaxed Performances: "Accessibility allows you to tap into new audiences"
Rachel Marks is an Autism Accessibility Consultant, and introduced us to strategies for welcoming people with Austim or complex learning disabilities into our venues. These strategies include: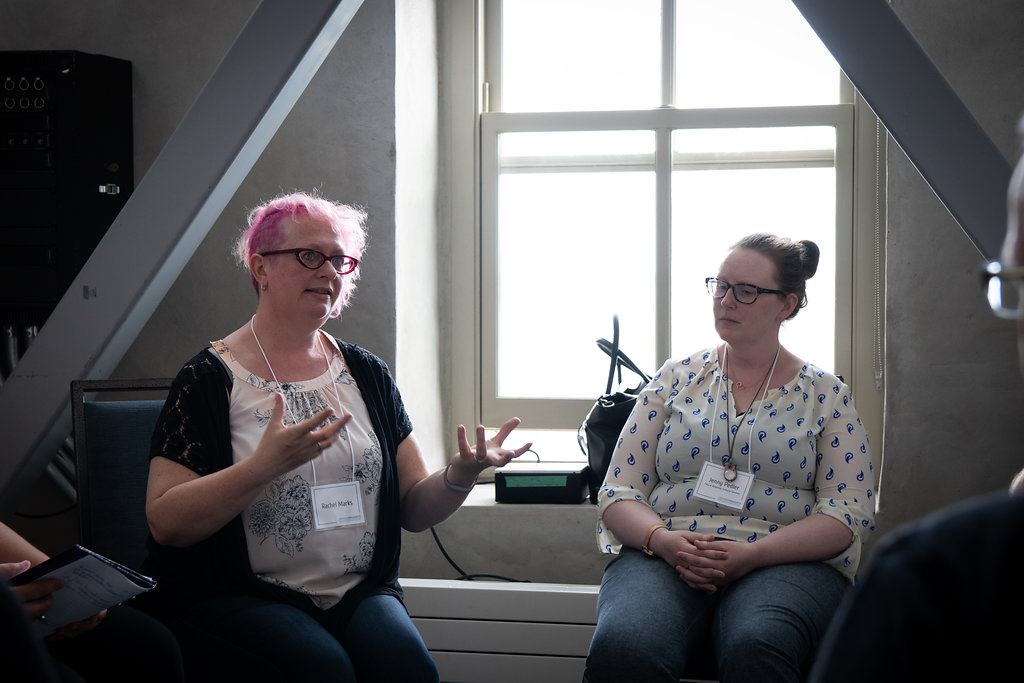 Relaxed performances – these performances are adjusted to be friendly to anyone with sensory sensitivities, such as people with Austism. For example, they usually cap the volume at 90 decibels, exclude strobe lighting effects, and keep the house lights on around 30%.
"Meet Your Seat" touch tours, which introduce an audience member to the theatre-going experience in a relaxed environment, with no crowds around. These kind of experiences can also be useful to patrons who are visually impaired.
Rachel pointed out that beyond just being the ethical thing to do, these kinds of accessibility efforts open your programs up to people with 
autism, anxiety, visual impairments, dementia, and small children – AND their families, friends, and caregivers. Accessibility allows you to tap into new audiences in your communities.
Working with Artists with Disabilities: "Representation leads to a sense of belonging"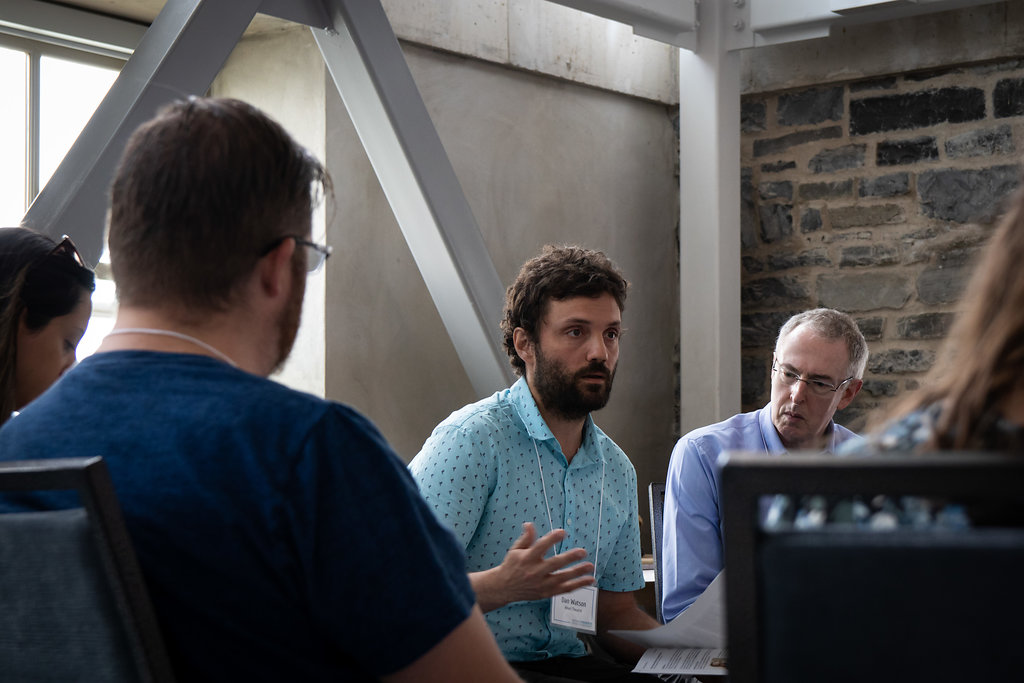 Dan Watson is an award-winning creator and producer of theatre and events. He is Artistic Producer of Ahuri Theatre (This is the Point, What Dream it Was) and founder of Edge of the Woods Theatre (Nuit Blanche North, Ralph + Lina). Like Rachel, Dan highlighted the value of making your venue accessible to people with disabilities in opening your venue to a whole new community.
Dan talked about presenting differently-abled artists. Having a physically accessible venue means a lot more when the stage also includes differently-abled performers. In many cases, even if the front of house is accessible, the backstage may not be – the stage, dressing rooms, and backstage bathrooms all need to be taken into account.
When Ahuri Theatre tours their show This is the Point (which features two award-winning actors and writers who have Cerebral Palsy), they send an accessibility rider to the presenter in advance of the show. An accessibility rider details the company's specific venue, communication, and – if applicable –accommodation needs.
Working with Indigenous Communities: "Nothing about us without us"
Deb St. Amant, an elder, longtime educator, and author of First Nations, Métis and Inuit Student Success, spoke about building relationships with our local Indigenous communities. She highlighted the importance of involving Indigenous people in planning any events that involve Indigenous culture. She said to not be afraid to reach out to your local Indigenous community to connect with them – just keep in mind that you have to be willing to put in the time to build a relationship with that community. Do not reach out just once for advice, but follow up and keep in touch over time.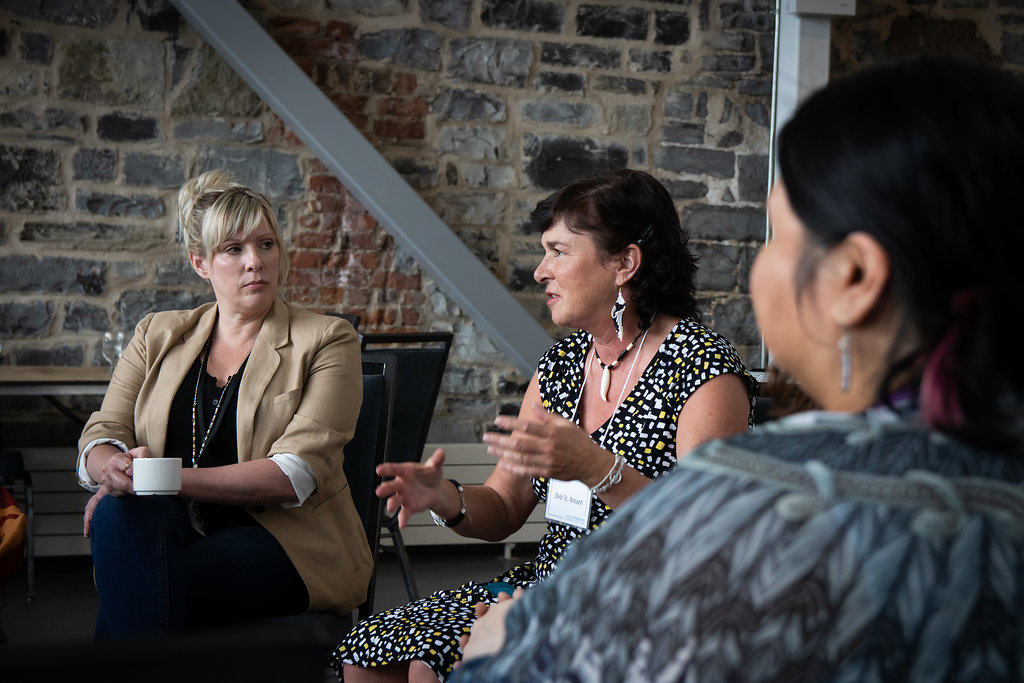 You can start by looking for a local Native Friendship Centre in your community. You can also find other partners like libraries, community events, and local artists. Once you start to be engaged, you will find more and more opportunities for connection.
Deb also reminded us that all of our accessibility and inclusion conversations are closely linked, due to intersectionality. Challenges like poverty, health concerns, and physical disabilities disproportionately affect Indigenous communities, and so removing physical, social and financial barriers can also help make your programming more accessible to Indigenous guests.
For the evening, our host Jayson Duggan programmed a showcase of four amazing Kingston-area artists: Noelle Maracle, Colleen Brown, Miss Emily, and The Abrams. You can read more about these artists here.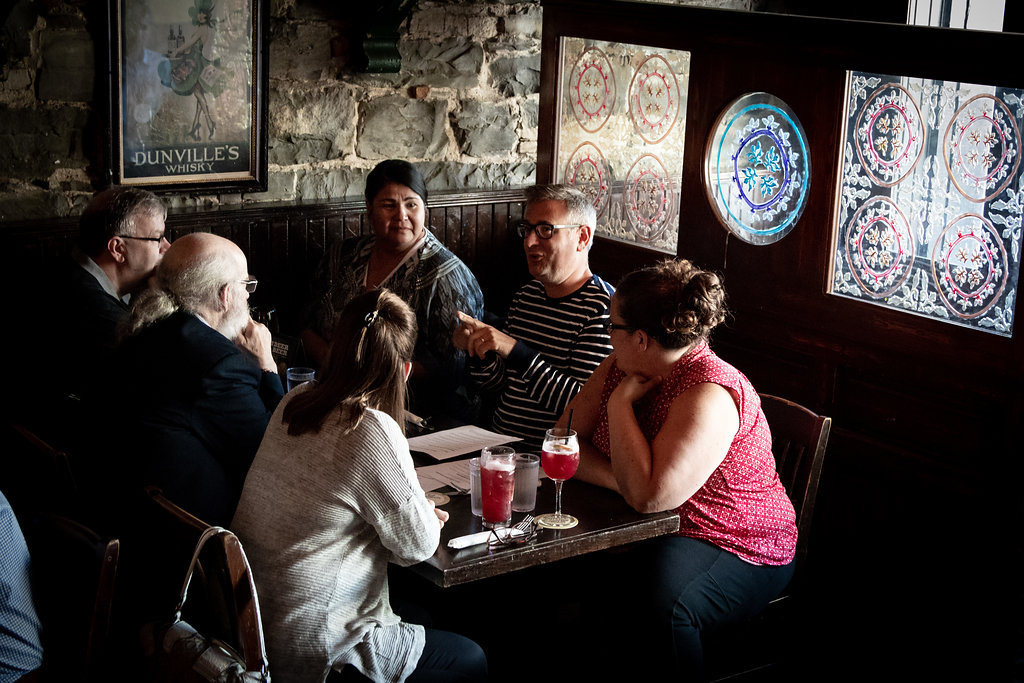 Reflection
Our final morning wrapped up with a reflection on the retreat, and on each organization's successes and challenges from the past year.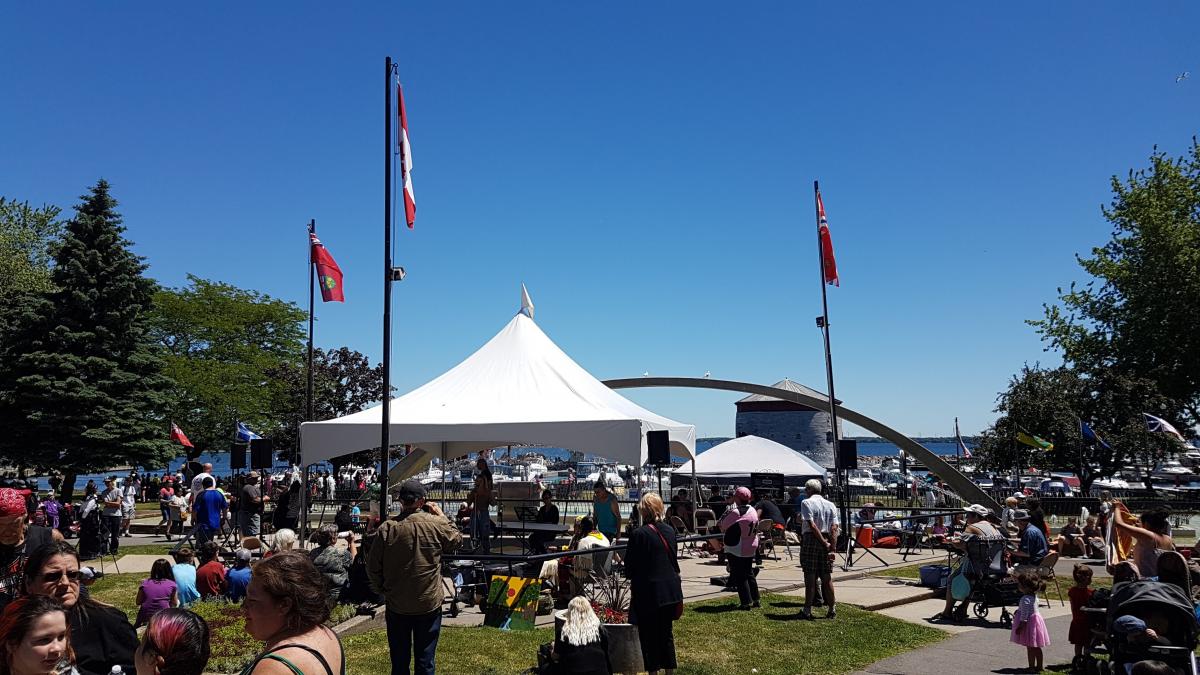 June 21st is National Indigenous People's Day and many of us headed out to the park to a celebration of Indigenous culture, including performances from local artists. In moving from City Hall to the celebration outdoors, we experienced some deep learning around the trauma that exists for Indigenous Canadians whose families and communities have been deeply impacted by settler colonialism.
Kingston City Hall was built as the seat of parliament in 1844 when Kingston was the capital of the United Province of Canada. It is a National Historic Site which houses historical paintings, artefacts, and architecture related to Canada's history, particularly Prime Minister John A. Macdonald, making it a problematic landmark for Indigenous people. While in office, Macdonald ratified the Indian Act and created the residential school system. We are grateful to our colleagues that drew our attention to the deeply colonial legacy of our meeting place, and are very glad to have had the opportunity to end our gathering with performances from amazing local artists who are a part of Indigenous resurgence in this country.
Our thanks to everyone who joined us for the 2018 Spring Retreat!
Photos by Tanya Trombetta - Creative Nest