Ontario Presents and its member presenting organizations recognize the importance of presenting Indigenous artists, stories and culture as part of their presenting practice. As we continue to encourage the respectful presentation of Indigenous art, we will be featuring an Indigenous artist each month in our e-newsletter and blog. Our sincere thanks to Denise Bolduc for conceiving of and continuing to support this Spotlight Series. Spotlights are developed with the artist, and are intended simply to share the artist's work and foster greater awareness and understanding of the strength and diversity of Indigenous art available in Ontario and beyond.
Explore all of our past Spotlight interviews here!
This month we spoke with performer, playwright and poet Yolanda Bonnell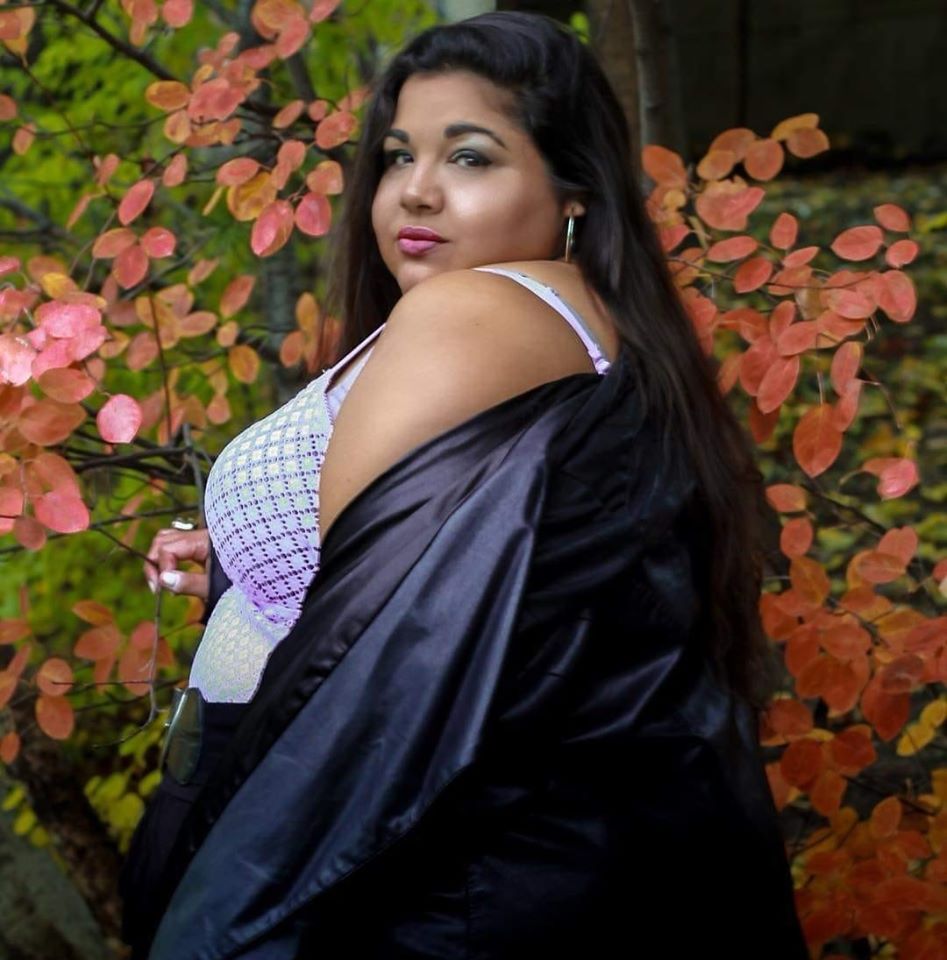 To start off, can you tell us a bit about yourself and your work? I know you have lots going on!
Aanii! So I am a playwright, poet and performer from Fort William First Nation. I moved to Tkarón:to in 2011 and graduated from Humber's School for the Creative and Performing Arts theatre performance program in 2015. As an actor, I've performed on mainstages here in Toronto as well as the Stratford Festival, the NAC and have toured the unceded Coast Salish territories.
The work I create primarily focuses on Indigenous women and many of my experiences growing up on and off a reservation and being incredibly colonized. I focus on Indigenous women as we have the most silenced voice and I am determined to create or find platforms to raise our voices and tell our stories.
I am a co-artistic leader in manidoons collective, which I started with Cole Alvis and one of our main objectives and something I strive to find answers for is the decolonization of theatrical practices. I also facilitate storytelling workshops for Indigenous youth whenever we tour my solo show, bug.
bug began as your final school project and has since had many iterations, including a national tour. How does it feel to have a work that began as a school project take on such a successful life of its own?
I never – in a million years – expected this story to speak to so many people. I feel like I should have on some level, but it still feels very surreal. I think what's sort of kept me deeply grounded with it is that you know, somewhere this girl and her mother exist. And we know that intergenerational trauma exists and addictions exist and we see the poison that colonization continues to bring us. It's very real. And over the course of the last five years or so that I've been working on it, I just wanted to make sure that I was shaping that story in a way where it never lost that quality. I was very focused on developing it into the best it could be.
I think I just struggle with what success even really means; you know? The most successful for me is when women tell me how they've felt seen or heard. Even when the four Dora nominations came in – to me, it was a success for the Indigenous women who felt represented by this story.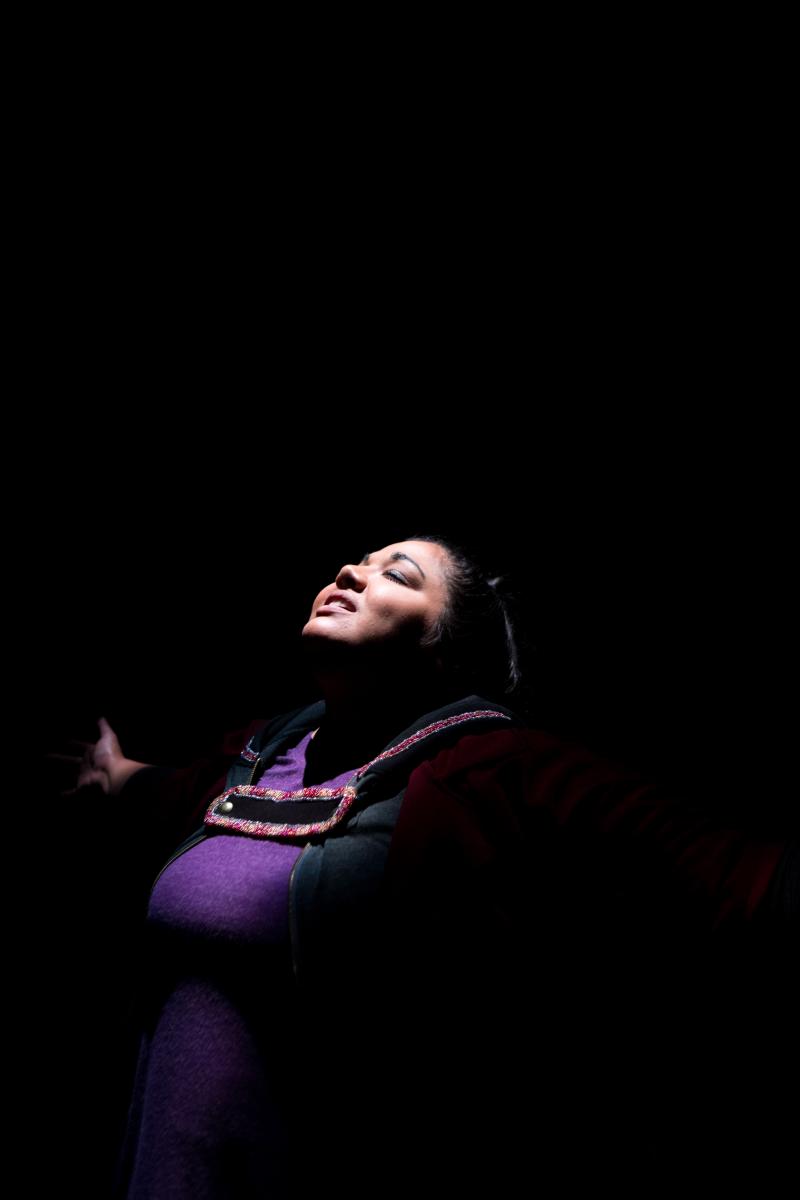 You brought bug to your hometown of Fort William First Nation and Thunder Bay last October. How did it feel to perform the show in your community?
That experience was like nothing I've ever felt before. I mean – the story was written with that city and community as the backdrop. It's like I brought it home in a way. It was incredibly important for me to be on my own land and be in my own territory and do work with my community as a part of the entire experience.
Some of my friends and family had not seen me perform since before I left and my whole art has changed so it was nice to be surrounded by loved ones while I told this story. The energy was different for those shows; it was powerful. I am so grateful to my community for supporting that energy.
As a performer, you also appeared in The Unnatural and Accidental Women as part of the opening season of Indigenous Theatre at the National Arts Centre. It's a very challenging and powerful piece with a cast of strong Indigenous women. Can you speak a bit to that experience?
I love Marie Clements' work and this piece has always been one of my favorites. Any time you can get a large group of Indigenous women on a stage together, I consider it an act of resistance. A powerful message that we won't be silenced. I loved working with all of those Native women. Each of them are strong and powerful in their own unique ways and I love them all dearly.
Yes, of course it was challenging – for a number of reasons. Work that incites or talks about our trauma is always going to be challenging. Playing a dead NDN women is challenging, because often that's the trope, right? But I felt the spirits of those women with us. We saw them. They were there with us every step of the way. They wanted their stories told – their voices supported and they deserved that.
I think the challenging aspect of institutional theatre is that it is institutional and inherently colonial. These spaces have a long way to go and still a lot of work to do before I, personally will consider them Indigenous theatre. For me, Indigenous theatre means actively working towards decolonial practice and not everyone is actually doing that work.
You take on a lot of our society's real, difficult topics in both your work and your life. Do you have an issue or message that you feel is most urgent for you as an artist to tackle in 2020?
I think, like many of us, the state of the earth and climate change is impacting hard on my heart.
Normally, I would say that I will continue my work in uplifting the voices of Indigenous women and speak on Indigenous politics, but … I actually don't think that they are different from each other. I do believe that the answers to our climate crisis and earth healing are in the hands of our Indigenous youth.
Will writing a play about that make a difference? Who knows? But I do believe that we can change courses through representation. If a young person sees what they could be and feels seen and valid, then that person could be inspired to make change, rather than fall back into a cycle that was created for us. At this point, I don't think it's about creating art that can change the minds of those opposed to us, but rather creating art that allows us to feel empowered to create more positive change.
What's next for you? Do you have any upcoming projects that you'd like to share about?
Well bug just completed a two-week run at Theatre Passe Muraille in Toronto, which was exciting. I have a few projects in various stages of development that I'll be focusing on this year. I decided to take a break from acting in 2020 (aside from bug) to have time to heal my body and mind.
How can people find out more or get in touch?
My website is www.yolandabonnell.com, which has contact info there or you can follow me on Twitter @Yolanda_Bonnell
Thank you to Yolanda for taking the time to share with us!
Photos (top to bottom): Yolanda Bonnell, photo by Ty Sloane, Yolanda Bonnell in bug, photo by Gilad Cohen