Ontario Presents and its member presenting organizations recognize the importance of presenting Indigenous artists, stories and culture as part of their presenting practice. As we continue to encourage the respectful presentation of Indigenous art, we will be featuring an Indigenous artist each month in our e-newsletter and blog. Our sincere thanks to Denise Bolduc for conceiving of and continuing to support this Spotlight Series. Spotlights are developed with the artist, and are intended simply to share the artist's work and foster greater awareness and understanding of the strength and diversity of Indigenous art available in Ontario and beyond.
This month we spoke with husband and wife duo Twin Flames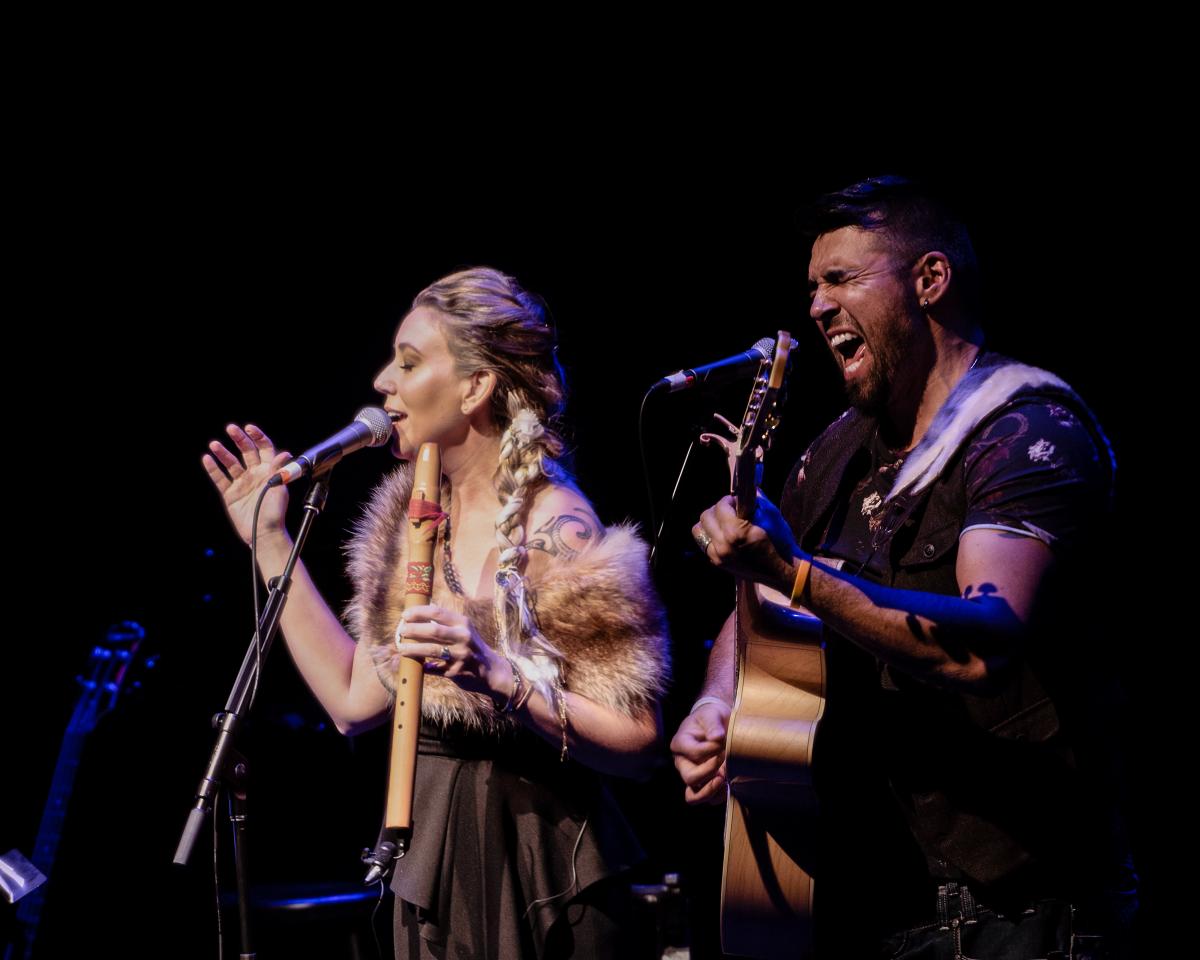 Can you tell us a bit about yourselves and your music?
Twin Flames is made up of a husband wife duo. Jaaji is Inuk Mohawk and Chelsey June is Métis of Algonquin and Cree decent. Jaaji grew up in the high arctic in Nunavik, Quebec, in a small village called Quaqtaq, and Chelsey grew up in Ottawa.
We have been playing music professionally full time for just under 5 years and have played over 800 shows which have taken us across the Arctic, Canada, US, Greenland and France.
We have won Two Canadian Folk Music Awards and Two Native American Music Awards and have received 21 Nominations across many award platforms for our two albums, Jaaji and Chelsey June 2016 and Signal Fire 2017. We met on a television show (TAM) being filmed for APTN the summer of 2014.
You both had music careers before you became partners in life and music – how do you think each of your individual musical styles has influenced the other's?
We help each other come out of our comfort zones. Jaaji is the melody king and Chelsey is the poet - those roles do switch at times. Chelsey struggled with extreme stage fright and Jaaji helped her feel more comfortable on stage. We both bring out the best in each other and help one another think of things from different angels. It just works on every level, hence the name Twin Flames.
You've previously said that you were not sure how you would be received by your independent fan bases when you first came together as a band, primarily because of language barriers. Can you talk a bit about the experience of taking that risk?
We just went with it! The first summer of touring was mostly in the Arctic regions where Chelsey came along on Jaaji's tours. Sometimes it felt the same as if Elvis Presley would have brought a woman on stage. Jaaji's music was known and loved which made it hard for people to accept Chelsey on stage with him.
It was not easy anywhere at the beginning, we felt like outsiders in both the North and the South; since Jaaji's Inuttitut language was not understood in Southern venues, he too had a hard time being accepted.
Neither of us were excepted right away but people connected to our music, harmonies and spirits that's when the magic began. With time we built relationships with communities and audiences which was the game changer. "In order for people to be open you have to be open first."
We had to face the existing stereotypes language, colour, race and try to not take things personally. Once we realized that, things started to change. We made our tours all about music, our voices, our love for people and our true passion for leaving positivity in this world.
In addition to your recording and touring schedule, you also do the great work of offering school workshops around music, culture, and social issues such as drug abuse and suicide prevention. How did these workshops develop?
We were asked to speak to a group of youth in a small Nunavik Community; we went up to give a community concert and the school asked us to come by. When we spoke with the children about our journeys are and our dreams, we saw their faces light up. We knew then we had to do more to give back. "We are where we are today because of the people that love us and believe in us."
Many of our youth have lost hope and do not know that it is possible to dream. Both of us wanted to do everything we could to change that. So, we started giving presentations/concerts /workshops in schools.
In the North we focus on healing, we tackle the tougher subjects that really need to be talked about such as mental health, drug and alcohol abuse alternatives, healthy lifestyles and relationships and how both of us have chosen to live a life of sobriety. In the South our presentations are focused more on culture and the history of our people in storytelling and songs. We present words in Inuttitut. We touch on the pressures of fitting in, racism, bullying and the dangers of addiction.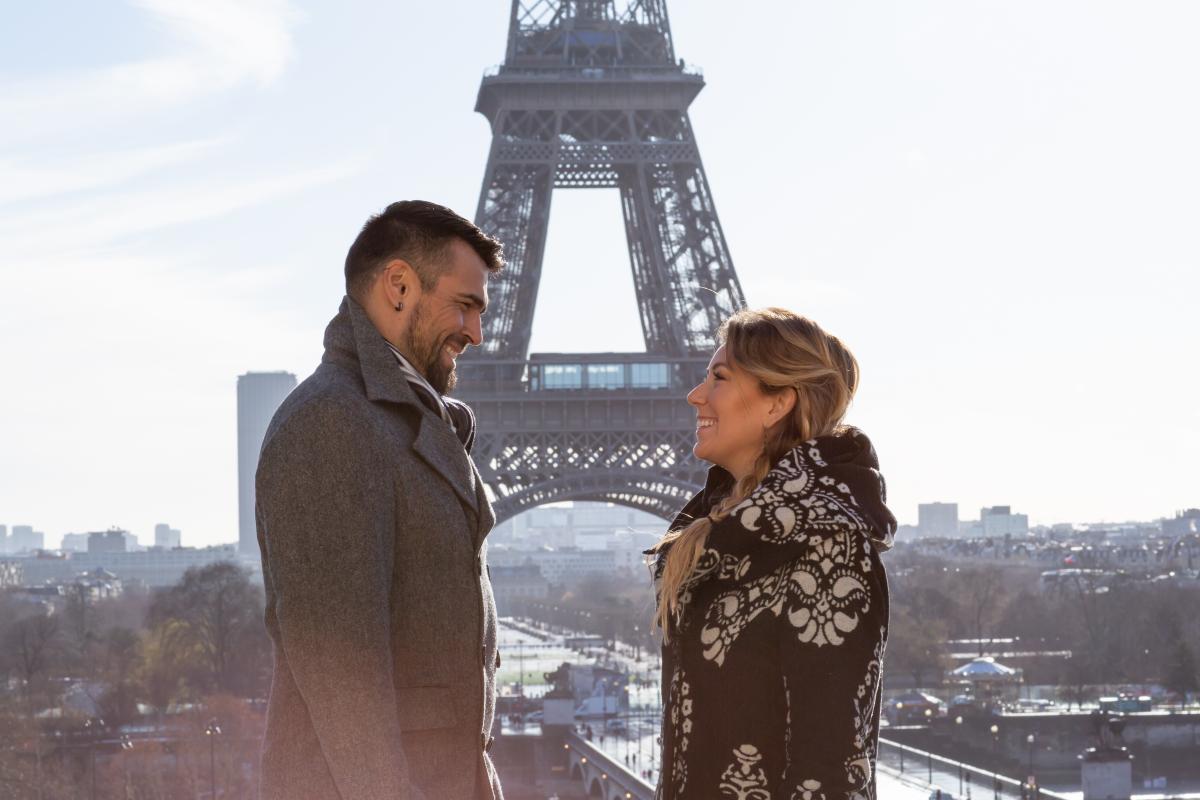 The response has been amazing and our goal is always to make at least one child feel that they can dream and they can make it through whatever may happen in life. 
What's next for you? Any upcoming projects that you would like to share?
We just released a new single titled "Human." We were chosen as artists in residence for Folk Alliance International 2019 (which just happened in Montreal this past February.) As part of the residency, we were commissioned to write a song for UNESCO, a song to celebrate the International Year of Indigenous Languages. We flew to Paris to perform on January 28th and represented Canada at the launch event at UNESCO with people from around the world.
We filmed the music video for Human at Nunavut Sivuniksavut Arctic College in Ottawa with many wonderful Inuit Students and staff. We were also joined by our First Nation and Métis friends live on set with photographer Sean Sisk and Videographer Matt Provencal. The song was produced by Jake Jones at Raven Street studios.
Our video premiered to an International audience at The Folk Alliance Conference prior to Tanya Tagaq's Keynote address this past weekend and the response was inspiring and heartfelt.
You can see the video here
We are working on our Third Album as we continue to tour internationally. We will be Touring Alberta in April and have a very busy tour schedule. Our community outreach work and school workshops will keep us busy as well. We will be playing the Edmonton Folk Fest and Almonte CeltFest this summer just to name a few.
Find Twin Flames on: Website | Youtube | Facebook | Instagram | Twitter | Soundcloud
Thank you to Jaaji and Chelsey June for sharing with us!
Photo 1 Al Pettman
Photo 2 by Sean Sisk
Photo 3 Maud and Sophie Photography