Ontario Presents and its member presenting organizations recognize the importance of presenting Indigenous artists, stories and culture as part of their presenting practice. As we continue to encourage the respectful presentation of Indigenous art, we will be featuring an Indigenous artist each month in our e-newsletter and blog. Our sincere thanks to Denise Bolduc for conceiving of and continuing to support this Spotlight Series. Spotlights are developed with the artist, and are intended simply to share the artist's work and foster greater awareness and understanding of the strength and diversity of Indigenous art available in Ontario and beyond.
This month we spoke with singer/songwriter and inspirational speaker Lacey Hill.
Lacey Hill is Oneida of Six Nations, Wolf Clan. She is a singer/songwriter and inspirational speaker. Lacey went solo launching her debut album titled 528, independently. Her sophomore album 528 Volume II M has taken Lacey across Canada and on to international stages.
To get us started, can you tell us a bit about yourself and your artistic practice?
I am an Oneida Woman from Six Nations of the Grand River. My artistic practice is constantly evolving with every new lesson. Personally, I use music to heal on a deeper level, using the tones to vibrate within my body. I write and think a lot in the early mornings when things are clear and quiet. I find lyrics and unique melodies that echo my life experiences.
I share this sound and my lyrics with the intention of helping others heal. I have an original raw sound that didn't fit into what I recognized Folk music to be, so I call my music Indigenous Soul.
I understand that your early career involved a number of collaborations, including as a backup singer for Breeze Band – when did you start to think about developing your solo career?
I'm grateful for that experience, I was backup singer for 5 years with the Breeze Band, due to whatever reason the Breeze broke up. I was 24, I moved to BC by myself and felt a huge musical void and started my own thing.
I decided to try singing and creating original pieces. I moved back home and decided to share some of my original pieces at an open mic at the Woodland Cultural Center. They recorded it and now those songs can be found on my first album 528 volume 1 that I independently released in 2013.
I never really thought about a solo career until it happened!
You continue to collaborate with other artists on projects (e.g. dancer Santee Smith features in your music video for Each Other) – is it important to you to continue to work with other artists, including those in other disciplines?
Working and collaborating with other artists is one of the best ways to create positive relationships with people in your community, working together is always encouraged for many different reasons.
I'm so grateful to have worked with Shane Powless on this video as the whole 528 Volume 2 Album is pretty much a piece of my heart. I have admired Santee Smith for many years, so to be able to work with her was an absolute dream come true.... she's a powerhouse!
I believe in building strong creative relationships in the places I work and look forward to future collaborations with other artists and I welcome the process.
This year you composed music for the theatre for the first time (for Tara Beagans' Deer Woman)? What was that experience like for you? Did writing for theatre change your songwriting process?
Not only am I composing the music for this amazing theatre production but I am also the back stage manager. It's a true honour to be apart of a STELLAR team and to have opportunity to work with such talented souls.
I have been so inspired by the theatre process thus far that it has definitely influenced my music composition. It's a very new and exciting experience. I love creating and I am very passionate about Deer Woman. I look forward to the lessons and opportunities theatre has in store.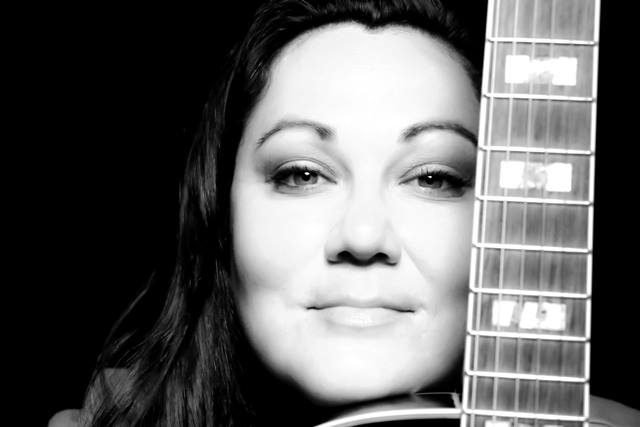 I understand that you are also an inspirational speaker – how did that side of your career develop?
For many years, I worked for a post secondary college as the Aboriginal Recruiter and I was trained to give presentations about school, like processes and informative stuff... Boring! Especially for young Native students! I knew all they heard was blah blah blah.
I figured, I had to find a way to reach them, so naturally I put a spin on the presentations to suit the audience. Often bringing my guitar into classrooms, showing them what following dreams and passions looks like.
My message then was education, it has since changed to finding your passions and following your heart, as we all have special gifts to be nurtured and shared.
What's next for you? Any upcoming projects that you'd like to share about?
I have three projects on the go right now, a Rock and Roll album collaborating with The Bad Guys from Six Nations (release 2019), and a lullaby Ep (release 2020). I am so excited for what the future holds and I have been working hard to plan and save for these albums and I'm so thankful to be able to have these opportunities.
Where can people connect with you or get in touch?
I am totally GOOGLE-ABLE – haha. Google my name Lacey Hill and my outlets will come up: Twitter, Facebook, Instagram, Spotify, Itunes etc. My handle is @MusicLacey
Thank you to Lacey for sharing with us!
Photos courtesy of Lacey Hill. Photo 1 by Naomi Denis, photo 2 by Shane Powless.