Ontario Presents and its member presenting organizations recognize the importance of presenting Indigenous artists, stories and culture as part of their presenting practice. As we continue to encourage the respectful presentation of Indigenous art, we will be featuring an Indigenous artist each month in our e-newsletter and blog. Our sincere thanks to Denise Bolduc for conceiving of and continuing to support this Spotlight Series.
Spotlights are developed with the artist, and are intended simply to share the artist's work and foster greater awareness and understanding of the strength and diversity of Indigenous art available in Ontario and beyond.
This month we spoke with singer and actor Cheri Maracle.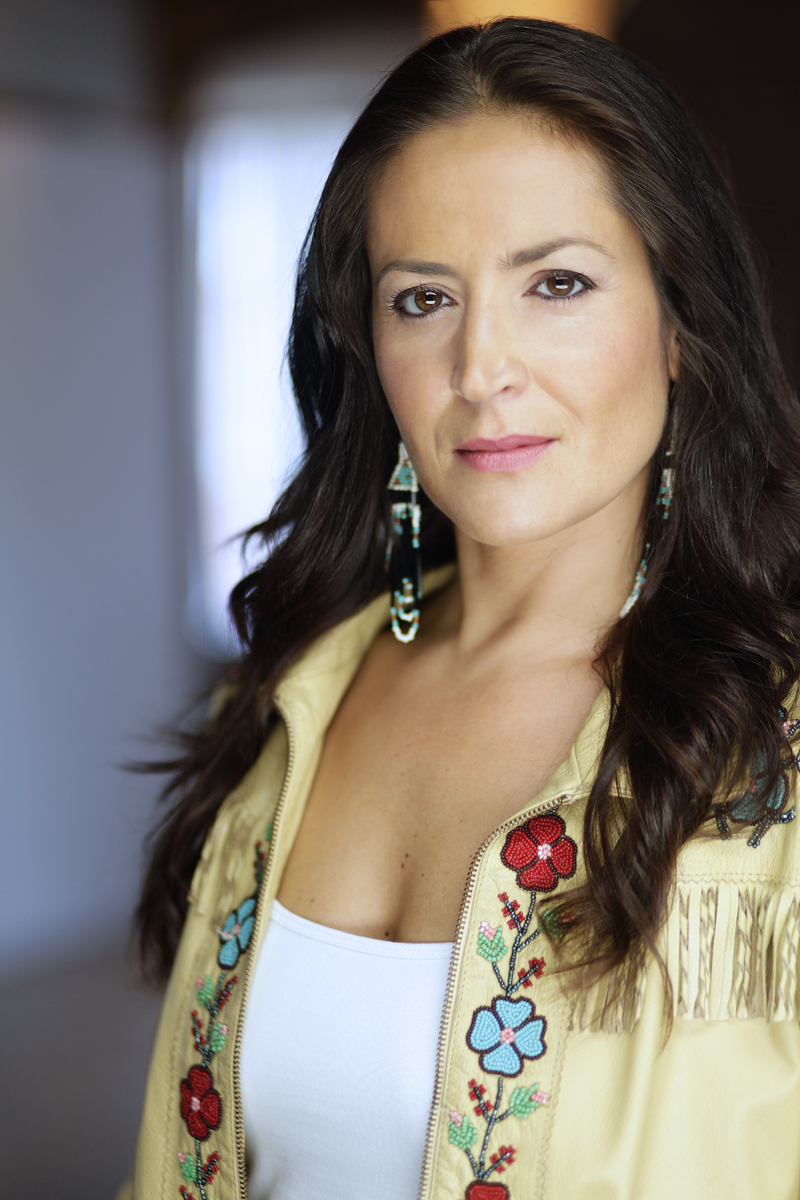 To get us started, can you share a bit about yourself and your work? 
Sago.
Well my name is Cheri. I am an actor singer/songwriter of the Grand River Territory, Six Nations. I am Mohawk and Irish. I've been acting and singing professionally for a very long time! I trained in Vancouver and at 20 did my first play at the Firehall Arts Theatre in Vancouver. Since then I've lived a life of stage and TV acting and singing with my band all over the place, Turtle Island and abroad. I have three albums on iTunes.
It's been remarkable to travel and work, it's been quite the career. I'm currently at Stratford workshopping a play with a company of actors- it's fascinating! Work is never dull- full of change, and challenge, and learning… I love it!!
You are an award-nominated actor and singer – how have you approached developing those two parallel careers?
It's become seamless, you just take the work and make sure things don't overlap… just kidding! It's been a juggle sometimes.
A summer ago I came back from Norway, doing my one-woman show at a festival there, and had to be on set after a short sleep to do a day on DeGrassi. Cuttin it close! This past summer I came back from India, performing with my pianist, in Dehli, to host a show at Nathan Phillips Square the same day. Had four hours sleep and got to it!!
I love it though. Keeps you on your toes. The thing is to make sure you're going to have the energy to do it. The switching of hats, from acting to singing, or singing to hosting can be very tiring. Really though, I'm grateful, and feel blessed to be able to do what I do for a living…it's all-encompassing, enriching, and gratifying work.
Your musical style is described as "jazz fueled and percussion driven." How did that style develop? Have you always been interested in jazz?
Oh God no! Ha. I went thru an exploratory phase, my first and second albums are filled with different styles. I started performing jazz- then went into having a band and writing my own stuff- then back to jazz. I like the dreamy soul of jazz- the storytelling, the drama. I love the instrumentation, the stand-up bass, the piano, the tempos, the sultry seduction of jazz. It's moody, and dark and I love that in music… it's transporting. 
You star in Paddle Song, a touring, one-woman show about Mohawk poet Pauline Johnson. What drew you (and continues to draw you) to this piece?
Yes I do love performing this show. It's a complete honour, firstly, and it's also just such an enigmatic beautiful story about this incredible Mohawk icon from the 1860's, Pauline Johnson- also from Six Nations. What a gal. The poetry!! Always a delight to re-visit those poems that are always at work in your body no matter where you are.
I've gained so much from doing that show- I am forever grateful. AND we just received funding to create a film project for the show, so that will be amazing!
The last time I performed Pauline was in India, performing a couple poems for a drama class in Dehli. What an experience!! Fantastic- they loved the poems, and were full of passion and questions about being a First Nations actor in Canada. Amazing visit with them.
What's next for you? Do you have any upcoming projects that you'd like to share about?
I'm auditioning, workshopping plays, recording in studio, there's some jazz in September, and another theatre project in the wings. Work comes up as you go along, things change and happen at the drop of a dime…just the way the Industry goes. I usually post my shows on my website, although lately have been quite remiss!
Where can people learn more about your work or get in touch?
I do have a website, and use Facebook a lot to spread the word about work and happenings :) 
Thank you to Cheri for sharing with us!