Ontario Presents and its member  presenting organizations recognize the importance of presenting Indigenous artists, stories and culture as part of their presenting practice.  As we continue to encourage the respectful presentation of Indigenous art, we will be featuring an Indigenous artist each month in our e-newsletter and blog. Our sincere thanks to Denise Bolduc for conceiving of and continuing to support this Spotlight Series.  
Started in 2018, the Indigenous Artist Spotlight series is intended to foster greater awareness and understanding of the strength and diversity of Indigenous art available in Ontario and beyond. As Indigenous and non-Indigenous artists face an incredibly difficult time, we will continue to spotlight inspiring Indigenous artists.
Find all of our past Spotlight interviews here.
This month we spoke with musician, spoken word artist, arts educator and community worker Beny Esguerra of New Tradition Music: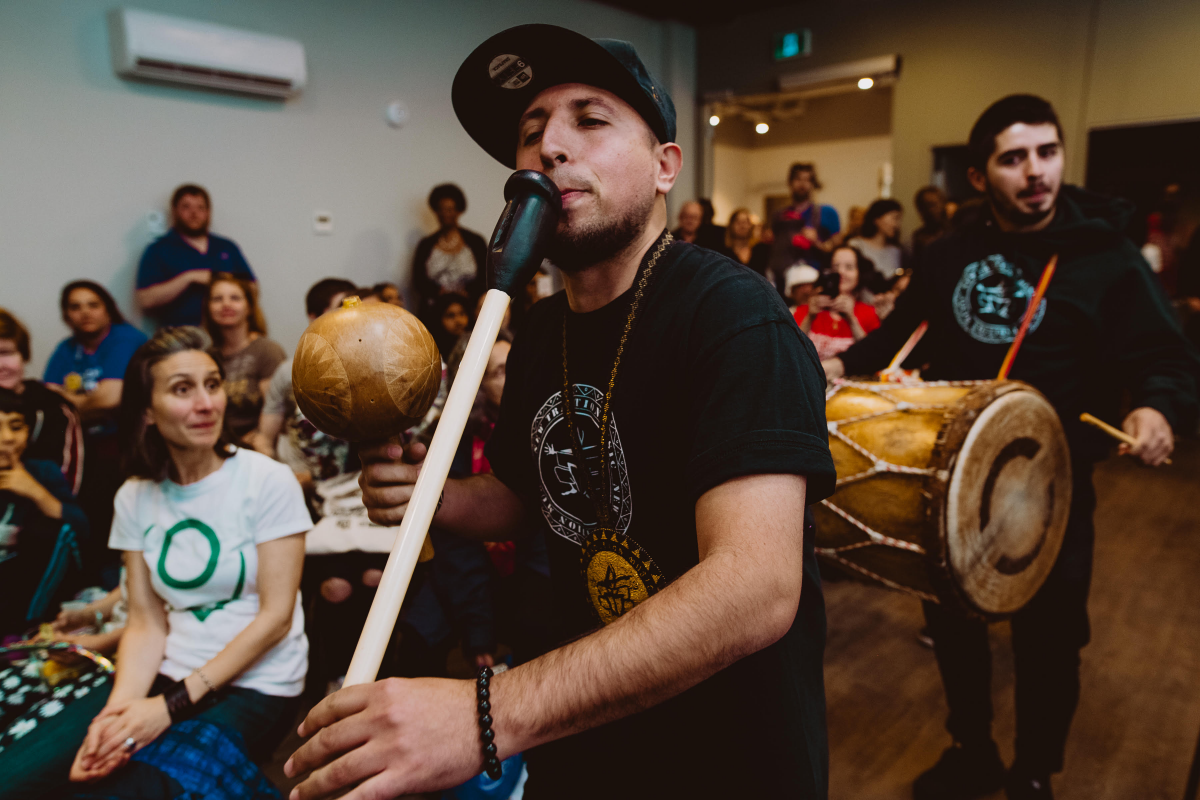 To start off, can you tell us a bit about yourself and your work?
I was born in Bacatá (Bogotá, Colombia) which is situated on traditional Muisca territory where my family and ancestors are from. I was raised by a family of arts educators involved in human rights work and activism who taught me the importance of the arts in the building of communities. Due to their human rights work during a time of political repression where activists were being persecuted and disappeared–similar to what is still happening today–we were forced to leave abruptly and seek refuge in Canada.
This impacted me a lot at a young age and made me grow up fast. I had to adapt to a new world and faced a lot of discrimination as many newcomer's do. All of this made me understand complex issues at a young age.  I quickly found stability in music, dance and poetry and this allowed me to overcome many obstacles. It was traditional music and urban cultural expressions which rescued me. I am now a professional musician, spoken word artist, arts educator and community worker.
As a musician and music producer I have led multiple projects and received recognition by being nominated for a JUNO Award in 2018. As a spoken word artist I have participated in festivals across North America, Latin America and the Caribbean. As an arts educator I have taught experiential courses that I've designed at York and Ryerson Universities and regularly facilitate projects in school boards across Ontario.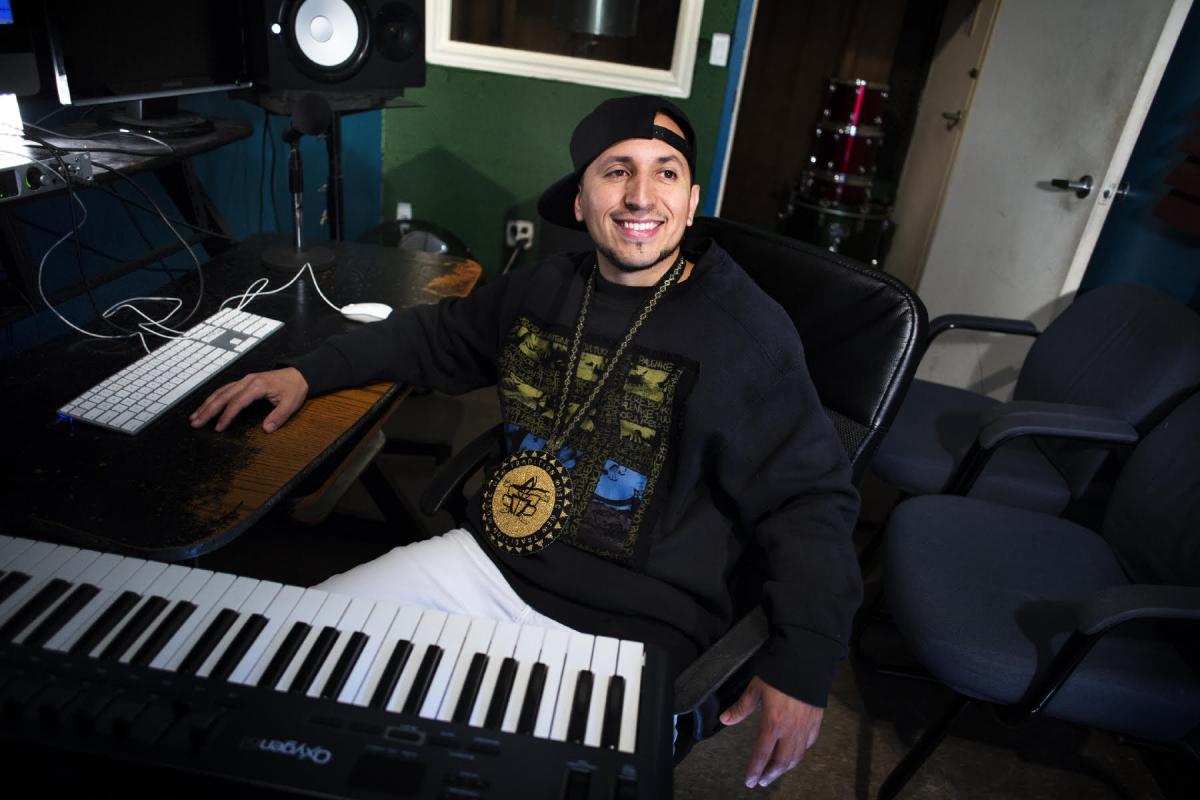 As a community worker, I am the music director of several projects in Jane-Finch and currently lead the New Tradition Music Mobile Studio project, which engages artists in two Jane-Finch community neighbourhoods. This reduces the precariousness of youth having to travel from one neighbourhood to another and provides access to professional engineers, equipment and music industry-related knowledge. With this project we've recently released the Wheel It Studios VOL 2 album, available on our website.
I am currently also working on my third independent album entitled A New Tradition Vol 3: Northside KUISi, as well as producing other surprise projects with high profile artists to be released next year.
You are a PhD candidate in Musicology/Ethnomusicology and your company New Tradition Music focuses on the blend of traditional and urban to create this new tradition. Can you talk a bit about the development of this approach?
I'm currently a PhD (ABD) candidate working independently on my dissertation in the field of Musicology/Ethnomusicology studying the music and instruments which I perform. This music can be described as: Afro-Indigenous Colombian music from a conscious inner-city perspective.
Música de gaita comes from the 16th century and its instrumentation includes two Indigenous flutes from the Sierra Nevada de Santa Marta–the world's tallest coastal mountain situated on the Caribbean coast of present-day Colombia–and drums that have their origins in West and Central Africa. This is the traditional music which I grew up with and continued to study during my graduate studies. Parallel to that, I also grew up in an urban Tkaronto context inspired by and participating in Hip Hop's elements and cultural expressions such as Breaking, Emceeing, Beatboxing, Deejaying and Graffiti. This influenced my approach of blending traditional South American and North American urban cultural forms. 
What does a New Tradition mean to you?
The concepts of "knowledge of self" and "self creation" are central in defining what New Tradition means to me. "Knowledge of self" (Tradition) represents the importance of continuously researching our traditions, lineage, ancestry etc. whereas "self creation" (New) represents the importance of innovation, re-invention, change, growth etc. I explore these concepts in everything that I do and it allows me to always look back and forward at the same time. 
You've spoken about music allowing youth who may not relate to the education system to share their ideas. All of us in the arts would of course agree with this, but what do you think it is about music that allows for this?
There are many styles, traditions and ways of teaching music that are underrepresented in the education system. In order for youth to become engaged, it's important to reach them through the things that they identify with while using teaching styles that they respond to.  Once you've reached them that way, the rest is easy and they fly on their own, making the impossible, possible, with the goal of expressing themselves through their lyrics, videos, instruments and compositions.
Music allows us to express and advocate for ourselves in many different ways. Some who choose not to use words, express themselves through sounds, instruments and compositions, while others advocate for themselves and their community in a very specific way through their lyrics.
How have you seen music bring out otherwise quiet or silenced voices?
While visiting schools, I often do drumming workshops with students who are labeled "developmentally delayed" or "behavioural" and I'm always amazed by the breakthrough moments that take place when students who don't usually participate in class, shine at playing the drums while teachers are amazed at discovering talents in their students that they had no idea about.
Your work has been very socially-engaged and political from, I understand, the very beginning. Can you talk a bit about your parents' activism and your own view of the relationship between the arts and activism?
In Colombia as well as here, my parents were always involved in International Solidarity work. It was these spaces which offered me my first chances to perform my music and as a result my music began to reflect the vision of my audience.
The organizers of many of these solidarity events understood the importance of music in amplifying calls for justice, unity and action–which are at the core of these events. In turn, I also understood the power of culture as a way of resisting injustice, racism, neo-colonialism etc. 
One of the many teachings that I learned from my parents–who fled a very violent context–is that cultural resistance is very powerful because it is peaceful but never passive. It is an important aspect of every movement and struggle due to its long-term and far-reaching effects that raise the consciousness in people by reaching their hearts. 
With such important conversations happening in our society, particularly about racial and economic inequality, it feels more important than ever to engage closely with communities, yet COVID makes it difficult to do so. What has your work looked like in 2020?
Much of my work came to a complete stop in March 2020. However, with regards to the New Tradition Mobile Studio project, COVID-19 restrictions halted our progress but at the same time created an opportunity for us to quickly re-invent ourselves through apps, plug-ins, file sharing and portable equipment. 
We were committed to continue the project due to its importance in responding to the needs of the youth in the Jane-Finch community–a west end community that has historically faced many racial and economic inequalities. It is an initiative that builds a culture of peace as its lessons on cross-cultural/cross-neighbourhood understanding and collaboration is needed and is starting to have long term empowering impacts on our community.
It was our sound engineering skills and a team of 25 talented artists/session musicians–who come with diverse musical heritages–that allowed us to complete our latest production in a safe way while maintaining physical distance in one of the hardest-hit communities in Toronto during the pandemic. 
Completing the "Wheel It Studios VOL 2: Parallel Intersection" album during the pandemic was the success story of the project.
Thanks to Beny for sharing with us!
Photo Credits (top to bottom):
Photo 1: 2019 Cultural Hotspot Launch
Photos 2 and 3: Annie Sakkab
Photo 4 Connor McSweeny