Presenting Q - Short Stories and Conversations with Ontario's performing arts leaders: 
Tell us your story why touring and presenting matter
As part of our Presenting Q initiative, we have conducted a number of interviews with presenters, and thought that it would also be great to hear from artist managers who contribute significantly to developing the field.
Meet Patty Jarvis, Executive Director of Prologue to the Performing Arts, CCI Industry member and our new member of the Board!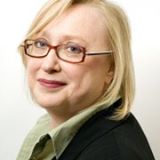 Patty has been an arts administrator for more than 25 years with a focused commitment to audience development, community building and, most specifically arts education. Patty worked with The Canadian Stage Company from 1992 to 2008 as assistant publicist, education manager and for the last 7 years as the Director of Audience Development and Education. She has consulted independently with such companies as Studio 180 Theatre, b current Performance and the Toronto District School Board and worked in partnership with The Creative Trust to develop the Performing Arts Education Overview which provided research into the work of arts organizations with schools and communities in the GTA. Patty is currently the President of PAONE (Professional Arts Organizations Network for Education). As Executive Director for Prologue to the Performing Arts since 2010, Patty continues to advocate for the value of arts in the lives of children and their families.   
Who/what inspired you to get involved in the arts?
My first experience of live theatre, at the age of 8, ended with a Q&A with the cast. I had been mesmerized by one of the actresses who had the largest, most expressive eyes I had ever seen. As she sat answering questions she removed her make-up in front of us. When she wiped her face with cold cream, her eyes, which had seemed unreal during the play, suddenly looked no different than mine. I remember thinking "anything is possible here, magic is possible here." I have had that feeling at live performances ever since.
In your opinion, what is the main value of touring and presenting to Ontario's communities?
Live performance has the potential to bring joy, laughter, questions, challenges, awareness and inspiration to audiences. The value of touring and presenting is that it facilitates that potential - bringing artists and artistic experiences to communities across the province – providing opportunities for authentic human connections!
From your experience, what do you see as your role in representing performing artists?
I believe that advocacy is the most important part of my role. Particularly because work for young audiences is often undervalued, I believe that providing access to the highest quality in performing arts to children and families is the key to building a sustainable foundation for arts support into the future.
What are the main benefits of your work to the touring and presenting sector?
In representing a roster of more than 40 artists and companies whose work is specifically targeted for young audiences, Prologue provides opportunities for presenters to build strong family and student programming. Facilitating partnerships between presenters, schools, community leaders, school board consultants, parents etc., Prologue encourages a foundation of arts access for all ages.
What are the biggest challenges facing you as an artist manager in Canada?
Not surprisingly – limited resources (both human and financial) to support more artists in more communities.
What do you consider your proudest moment as a performing artist manager?
Every time – it's the faces of children, whether they are captivated into complete stillness or joyfully expressing their responses to a performance – their ability to be "in the moment" with artists is remarkable and I am always proud to support that interaction.