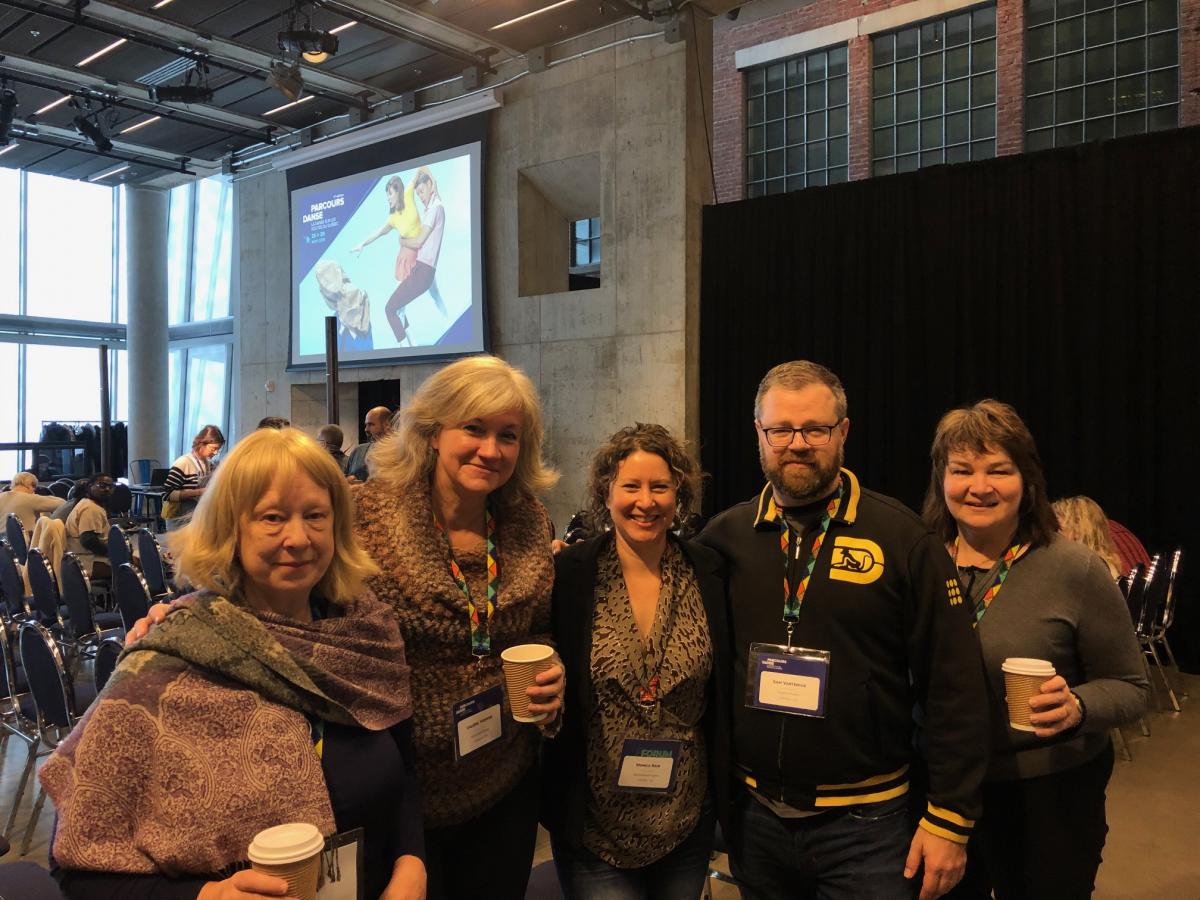 This past November, several members of the Ontario Presents network experienced extraordinary dance performances and took part in important conversations about dance presentation through two premier industry events: Dance in Vancouver and Parcours Danse.
Four members of the Northern Dances network travelled to Dance in Vancouver, accompanied by Director of Programs Judy Harquail and Valerie Hopper, Program Manager at the Department of Canadian Heritage:
Alyson Martin (Sioux-Hudson Entertainment Series)
Helene Studholme (Kirkland Lake Arts Council)
Patti Kinghorn (THEOP, Deep River)
Jeannie McMaster (Dryden Entertainment Series)
Debra Shushack (Red Lake Wilderness Entertainment Series)
This delegation, and the Northern Dances program as a whole, is made possible by funding from the Department of Canadian Heritage through the Fresh Start program. Northern Dances supports a small cohort of emerging dance presenters from Northern Ontario through networking opportunities, professional development workshops, and development of programmatic skills. Opportunities such as Dance in Vancouver allow the presenters to experience a wide range of dance performances and learn from both artists and fellow presenters:
"…  we had the opportunity to experience the creative, pragmatic and engaging dance scene, located on the West Coast and hosted in the beautiful city of Vancouver…
From Ziyian Kwan's solo piece The Odd Volume; and Raven Spirit Dance's Gathering Light; through to Joshua Beamish/MOVE THE COMPANY, Saudade, we found ourselves taking in so many works that left us moved, enlightened, challenged, and able to carry out our own Critical Response process in arriving at why something resonated for some and not for others…
All of this, allowing us to hone our curatorial eye….. still in its fledgling state, and making informed decisions about who we could reciprocate with, and invite them to our communities. 
Separate from the scheduled events attended, we continue to find ourselves valuing time spent with people we have built meaningful relationships with over the years, both fellow presenters and funders/supporters. Through opportunities like this, we are able to find ways to stretch and nurture our audiences, in the hopes of building capacity, with a healthy appetite for dance, as a most delicious entrée."
-       Alyson Martin, Sioux-Hudson Entertainment Series
The following week, another delegation travelled to Parcours Danse in Montreal. This delegation included Ontario Presents members and colleagues from a range of programs: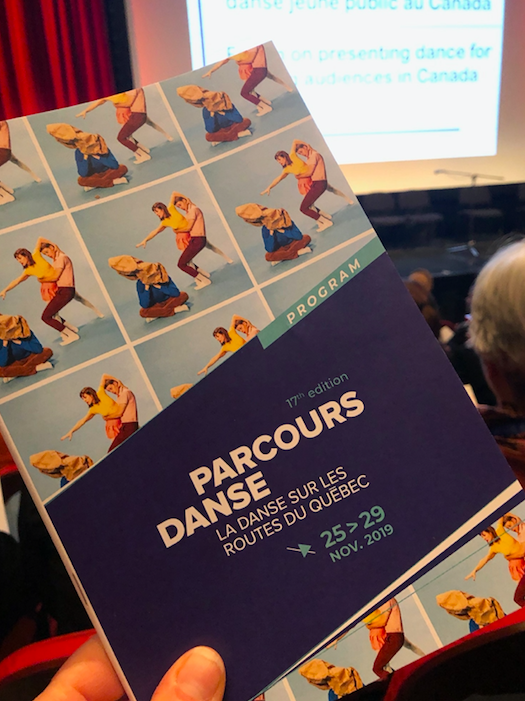 Monica Pain (Flato Markham Theatre) and Sam Varteniuk (Registry Theatre, Kitchener) attended as part of the Theatre Connects program. This program, funded by the Department of Canadian Heritage through the Fresh Start program, supports small cohorts of emerging theatre and dance presenters.
Helene Studholme represented the Northern Dances cohort.
Ontario Presents also supported the attendance of three Ontario-based artists from the Professional Development for Dance Artists from Indigenous and Racialized Communities program.
These participants attended Parcours Danse shows and industry series events, as well as a day co-convened by the Alliance of Canadian Dance Networks with a focus on dance for young audiences. Ontario Presents was proud to co-host this day along with our fellow ACDN members. Thanks you to our fellow networks, and to OP member Monica Pain for facilitating some of the discussions.
Participating presenters were thrilled with the opportunity to see great work, experience an out-of-province dance ecology, and make connections with both artists and fellow presenters: 
"Parcours Danse 2019 was an amazing showcase of established and emerging Quebec dance artists. I was able to see compelling new work, meet new colleagues, and plant the seeds for future partnerships. Once again, I am left in awe of the phenomenal ecosystem of arts and arts support in the province of Quebec: it's an ideal to which the rest of Canada should aspire!"
-       Sam Varteniuk, Registry Theatre
"As an Ontario presenter, it was extremely valuable to connect with our Quebec dance artists and agents.  The conference really increased my awareness about the wealth of talent, experience and versatility in Montreal and the province in regards to DANCE. The first day, we attended an entire day dedicated to Dance for Young Audiences. There were interesting and passionate conversations about creating accessible dance for young children and the importance and challenges around that…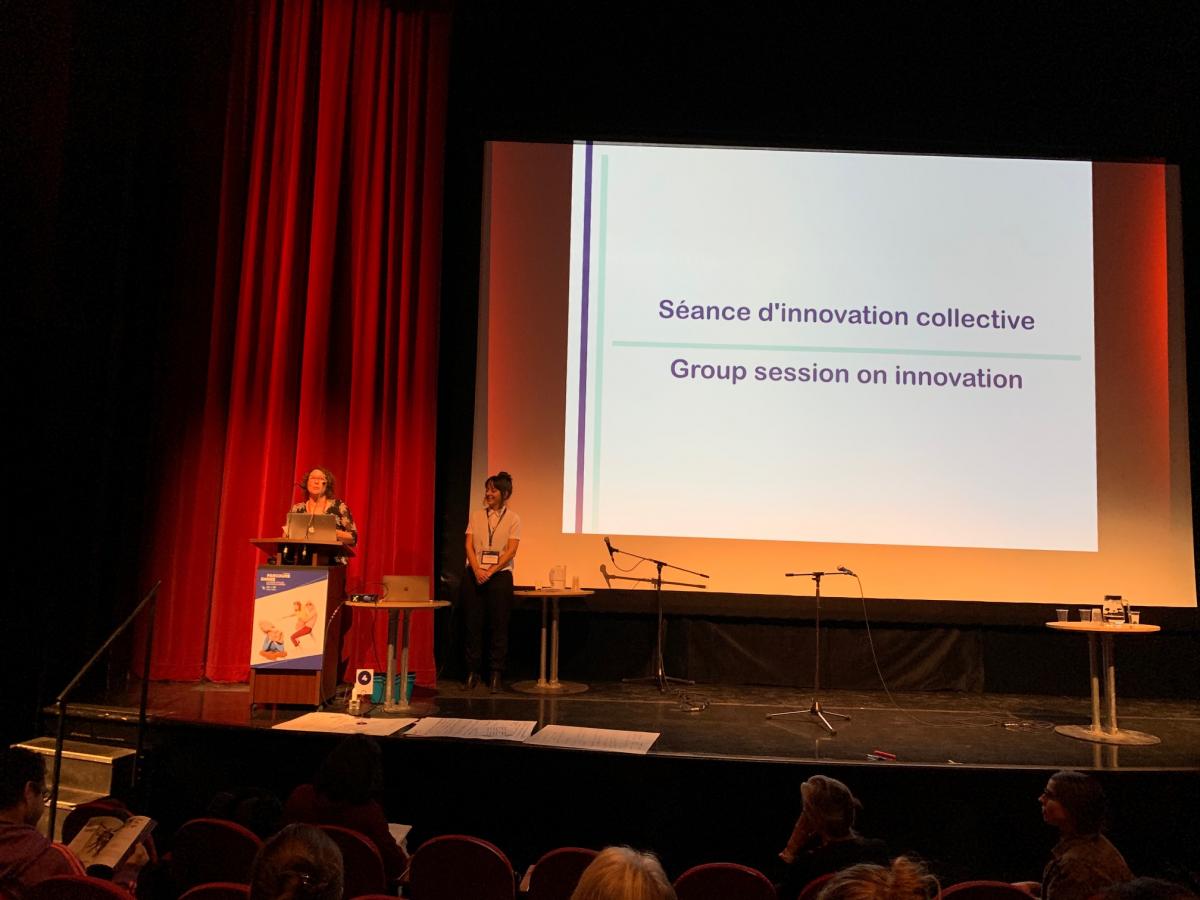 … getting to know our fellow Ontario presenters and our nation-wide Presenting colleagues better and share upcoming projects and discoveries face to face is always valuable and helps support both Canadian artists and presenters in many ways."
-       Monica Pain, Flato Markham Theatre
Our sincere thanks to our funders, colleagues, participating members, and all members who make knowledge-sharing and continual learning in our network possible.