Ontario Presents is currently partnering with CanDance and La danse sur les routes du Québec to offer a professional development program for dance artists from Indigenous and racialized communities. This pilot project offers assistance to artists from Ontario and Quebec who identify with Indigenous or racialized communities. Inspired by the success of Jouer dehors, the project's aim is to develop dance production skills. Artists are guided by Barbara Kaneratonni Diabo and Lee Bolton.
You can find more information about the six artists in the cohort here, and more about their current works here.
Over the next few weeks, each of the artists will be sharing about their work here on the blog. First up, Aria Evans!
My name is Aria Evans, currently based in Toronto, I grew up on Vancouver Island and have East Coast roots. I am a multidisciplinary dance artist and film maker. 
I started making work because I couldn't fully relate to the stories that were being placed on me and I didn't see myself represented in the work I was going to see. I wanted to weave my experiences as a person of mixed race (Mi'kmaq, African, settler heritage) into the fabric of our culture.  With the ultimate goal of finding a place of common ground, I create collective stories with people of different cultural backgrounds.
I'm currently developing my first full-length work - In The Abyss.  I am working from the question "what do all humans have in common?" and the scientific fact and beautiful metaphor that we are all made of stardust.  In The Abyss looks at the inescapable connections between the galaxies beyond us and our earth bound lives. It grapples at how to live with purpose and find meaning in the journey with honest explorations of loneliness, our search for connection as well as lighthearted, humorous observation. In The Abyss makes the connection that we need both darkness and stars, beauty and pain, to fully appreciate where we all intersect.  In The Abyss is being created with four dancers, projections, an elaborate set design and original music to premier in fall 2019.
I founded The Go To Company in 2015 with the intention of having challenging conversations within the arts while retaining an aspect of spectacle and the beauty of form.  I think art is meant to be political, I think that if we can reflect the world and model behaviors we can guide audiences to be more self-aware and really engage with and question their role and place in society.  The Go To Company makes work that is intimate, contemporary, relevant, powerful and multidisciplinary.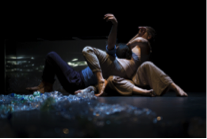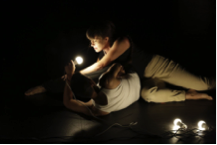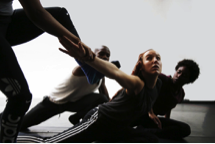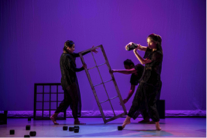 The PD for Dance Artists project is made possible by the Québec-Ontario cultural exchange program (the Government of Quebec and the Government of Ontario) and the Conseil des arts de Montréal.
Photos courtesy of Aria Evans. Performances depicted (in order of appearance): link (22min), Desiccated (22mins), RElaps (30mins), RANKED (22mins), The Trickster Re-imagined (25mins), In the Abyss (55 mins)