View Photo Album | Complete the feedback survey
Ontario Contact 2016 was welcomed by the gorgeous City of Peterborough, Showplace Performance Centre and Market Hall Performing Arts Centre. 
It all began on a blustery Wednesday when artists began to flow into the lobby of the Showplace Performance Centre for "Getting Ready for the Road: A Comprehensive Guide for Touring Artists". It was a workshop geared for artists looking to kickstart their touring career with facilitators Marcus Lundgren from Dufflebag Theatre Company; Robert Baird from BAM! Artists Management; Mehmet Dede of Tisch School of the Arts at NYU & Tom Jackson from Tom Jackson Productions. It was a fruitful and full day of presentations, guided round table discussions and pitches provided a group of 15 artists with the tools to begin their touring career.
The Facility Managers Meeting was also during the day, where the participants discussed best practices, shared information on emergency procedures in their venue as well as shared resources for further professional development. The notes from the Facility Managers Meeting are coming soon and will be uploaded here. Following the meeting,  "This Land, Ontario" with IPAA (Indigenous Performing Arts Alliance) and CAPACOA took place on the Showplace Performance Centre stage. The most important takeaway from this conversation is to listen and to have a stake in positive change for Indigenous peoples from the heart and stand in solidarity with them to break Colonial structures that exist in our respective communities. A good place to start might be to watch the Indigenous Arts Protocols video created by the Ontario Arts Council. The video does not give the viewer any set formula of how to "do" this, rather, it highlights the importance of acknowledging and respecting the traditions, artistic practices and knowledges of the Indigenous Peoples of Canada. The engagement of Indigenous artists needs to go beyond simply booking a show, there needs to be an ongoing, transformative conversation and engagement.  
Before heading into the New to Canada & First Nations Showcases, we shared a delicious catered snack at the opening reception generously sponsored by CAPACOA & IPAA. The New to Canada & First Nations Showcases that followed the reception were mind-blowing to say the least. The night was seamilessly emceed angela semple, a PhD candidate in Indigenous Studies at Tent University. The first showcases were performed by Sonia Aimy and Shahryar Jamshidi, as a part of IRCPA's "New to Canada" Initiative with Ontario Contact. The two acts were spell-binding. The acts as a part of the First Nations Showcase were all musical performances by Sean Conway, Evangeline Gentle, Missy Knot and Sarah DeCarlo which displayed the incredible wealth and a unique view into the artistic talent in Peterborough. The performances were vivid, effortless and bewitching for those at Market Hall that evening and personally, left delegates excited to see what was in store for the next 3 days of Ontario Contact. 
The following three days were filled with a multitude of brilliant performances, pitches, meetings and keynotes with Brian McCurdy for the Presenters Voice & Drew Haydn Taylor for the Artists Voice. Not to mention, the multitude of celebrations like The Awards Ceremony and memorable hospitality like the Closing Reception by Ontario Contact's 2017 hosts, Petrolia. 
Awards 

Jayson Duggan & Agent of the Year, Nicole Rochefort of AIM Booking Agency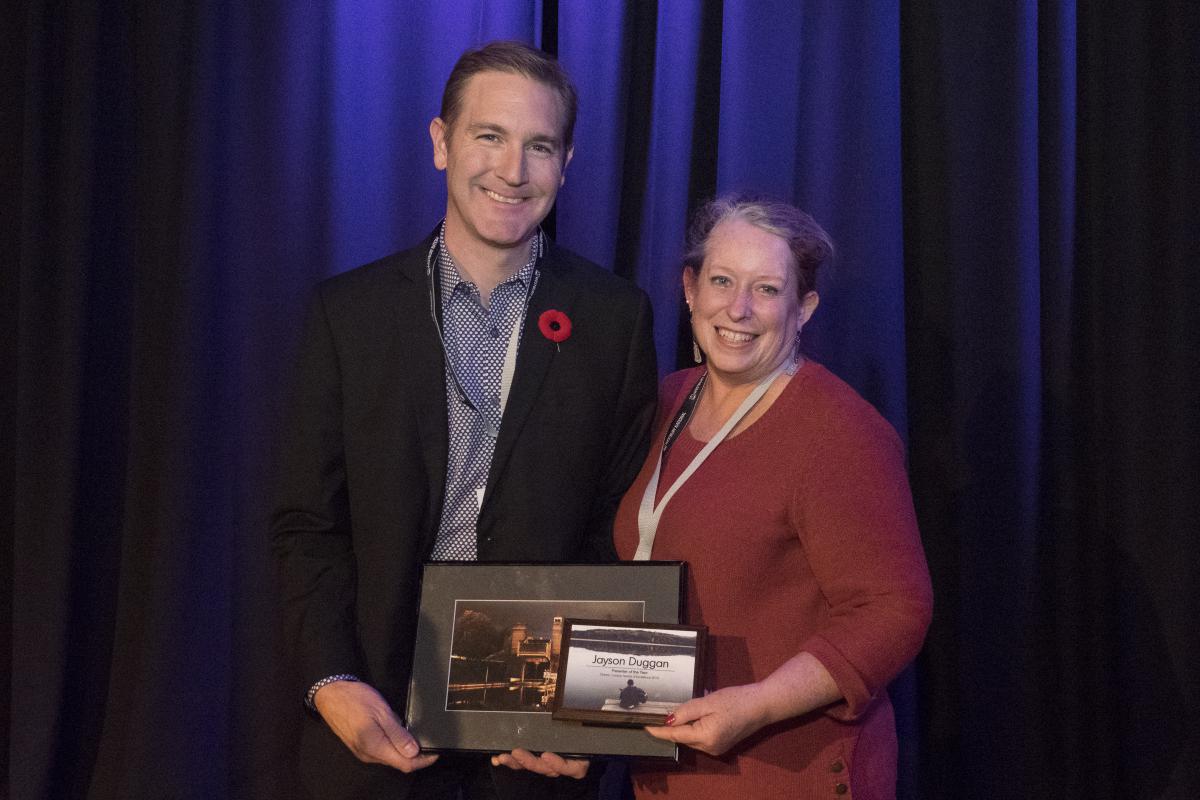 Presenter of the Year - Jayson Duggan of the City of Kingston & Cheryl Ewing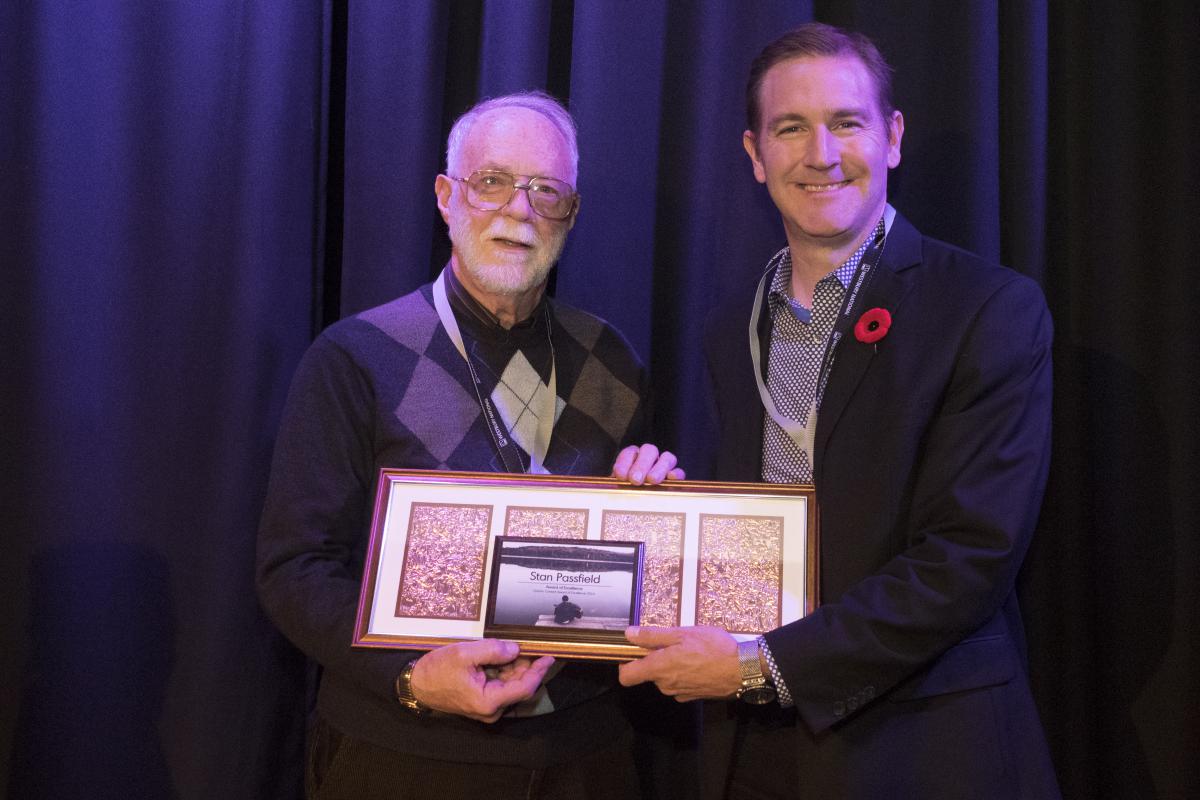 Award of Excellence - Stan Passfield of the Orillia Concert Association & Jayson Duggan
The awards celebration on Thursday recognized four sensational people who have made significant contributions to the performing arts touring and presenting sector: 
Agent of the Year - Nicole Rochefort of AIM Booking Agency, whose dedication to develop the careers or emerging and established artists. Her passion for live performance and personable attitude has garnered her the respect and admiration from colleagues throughout our network.  
Artist of the Year - Andrea Naan, Artistic Director of DreamWalker Dance Company develops projects that create meaningful ad long-term relationships with the communities she visits. Particularly with her project, The Whole Shebang. 
Presenter of the Year - Jayson Duggan, Performing Arts Manager with City of Kingston's Cultural Department. He is an innovative programmer with a strong commitment to championing a wide and varied season of performing arts experiences for his audiences. 
Award of Excellence - Stan Passfield of the Orillia Concert Association and Ontario Classical Music Network. Stan has single handedly kept the classical music network going through seeing a need for collaboration and positive development in classical music in Ontario. He continues to develop his skills as a presenter and is devoted to continue the improvment of digital communications within the network. 
Congratulations to all award recipients, we cannot wait to see what the future holds for you and your organizations! 
Finally, The Ontario Contact team extends its sincerest thanks to all our funders, sponsors, donors, volunteers, staff and tech crew. We could not have accomplished this event without you. 
A huge thank you to our hosts, Showplace Performance Centre and Market Hall Performing Arts Centre and their wonderful staff who provided endless support throughout: Chad Hogan, Ray Marshall, Emily Martin & Kait Dueck. 
We absolutely cannot wait to be surprised in Petrolia next year. See you at Ontario Contact 2017!