The Meet The Artist series highlights amazing and talented performing arts professionals from diverse backgrounds. To celebrate Asian Heritage Month, we are launching our Asian Heritage Month Artist Spotlight to highlight artists in the performing sector from Asian communities. We encourage you to engage with these artists with an open mind, and to remember that starting a relationship with an artist can be something smaller than a mainstage show such as inviting them to lead a workshop, sit on a panel, or collaborate with an artist local to you.
This month we invite you to meet featured artist Teiya Kashara. 
Nikkei Canadian settler Teiya Kasahara 笠原貞野 (they/them) is a queer, trans non-binary, opera singer and theatre maker based in Tkarón:to/Treaty 13, and was recently featured in the CBC short-doc OPERA TRANS*FORMED. Heralded as "an artist with extraordinary things to say" (The Globe and Mail), Teiya comes from a background of over a decade and a half of singing both traditional and contemporary operatic roles across North America and Europe. They explore the intersections of identity through their original works such as the 5-time Dora nominated THE QUEEN IN ME and THE BUTTERFLY PROJECT (Toronto Summer Music Festival July 2023). Teiya is a co-founder of Amplified Opera.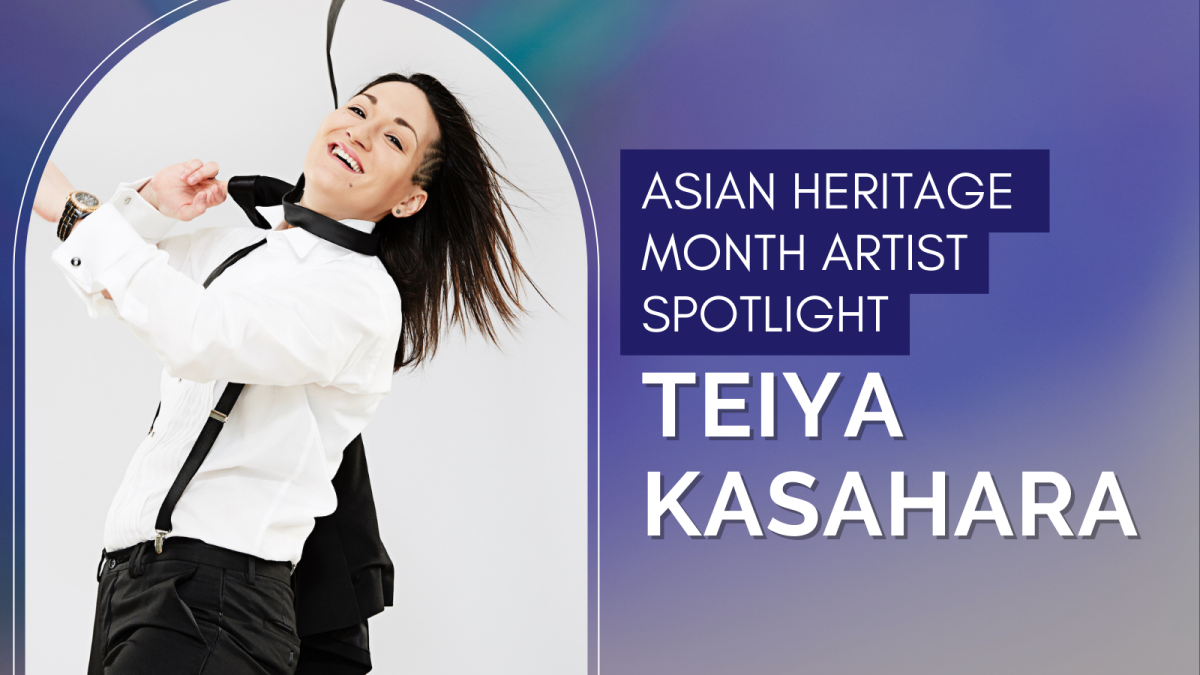 Transcription of the Interview: 
Sydney: Hello, everyone. My name is Sydney. My pronouns are she/her and I'm the Digital Marketing and Communications Coordinator at Ontario Presents. I am an Asian woman with long hair and bangs, wearing a white sweater. And for this month's Meet the Artist Spotlight, I am joined today by an extraordinary opera singer and theater creator, Teiya Kasahara. Before I begin the interview, I just want to remind everyone that captions are available for this interview and you can find a transcript for this interview on our website, link in the description below. Teiya, welcome and thank you so much for joining us today for our Meet the Artist Spotlight. We'll start off with a quick icebreaker question, can you tell the audience a little bit about yourself?
Teiya: Yeah. Thank you so much for having me, Sydney. Again, my name is Teiya. I'm a mixed Japanese-white settler. I have short, dark-ish hair that's pulled back. I'm wearing a grey sweater. I'm here in T'karonto in Treaty 13 lands, colonially known as Toronto, Ontario, and identify as a trans non-binary person. I'm an artist opera singer, a theater creator, like you said in your intro and my pronouns, are they and them.

Sydney: Wonderful. We'll just kind of do a quick dive into your work. So at the beginning of the COVID-19 pandemic, you started a project called "19 Videos for COVID-19", where you performed in 19 different musical pieces, including old favorites and socially distant collaborations from your balcony. Can you share with us what the planning process for this project looked like, and how did the project kind of evolve through those 19 days?
Teiya: Definitely. Well, first of all, there was no plan in place. It was very spontaneous. It was motivated by shock and surprise of what was going on in our industry in the world, uncertainty and this need to connect and need to share my art and to perform. And I had noticed that on Twitter, people in Italy were singing songs and performing with each other on their balconies in these different apartment complexes, singing songs, but also playing different instruments.
And I thought that was really special and really beautiful, especially when we knew nothing about COVID 19 and people were dying and getting really sick. So I decided to sing something off my balcony, and I was really fortunately surprised that there was a great acoustic out here. My balcony faces more condo buildings and the lake, Lake Ontario. So as I sang out and I had a boombox that I was, had some accompaniment was, the first song was Bach/Gounod's Ave Maria that I sang.
And so I sang that. And a lot of people were cheering and applauding down on the street level and also came out onto their balcony so I could see I'm looking out the window right now so I could see different people. Also wave and and say hello and witness the song. And immediately people were yelling "Encore." So I just did the whole thing all over again.
And I also decided to record it. So my wife, who was with me now, she recorded it on my iPhone and then we posted it on social media to share with friends and family that we couldn't see and that we're across the country as well and also in the states and abroad. So it just kind of blew up from there, like, okay, this was a great experience.
It was very random and spontaneous. And I decided, okay, let's do some more of this. And that's that's how the planning started, was after that.
Sydney: That's wonderful. I kind of like how you took your balcony you kind of turned it into this kind of impromptu stage in a way just to kind of like facilitate that kind of community gathering that wouldn't have been possible during the lockdown. So it's kind of great to see music kind of being used as this vehicle to connect people from near and far and from over the world through the power of the Internet.
Teiya: Mm hmm. Yeah, definitely. I was really I was really surprised by actually, like, people reaching out from, like South Africa, Brazil, Chile, you know, across Europe. And I could share it also with my my family in Japan. So literally a global it had a global reach, which was really powerful for me to to be a part of that, to witness it on the other end.

Sydney: Awesome. So I want to quickly shift gears over towards your opera-inspired solo theater show The Queen in Me, which centers around Rhe Queen of the Night from Mozart's The Magic Flute, as she becomes a metaphor for silenced and othered women within the operatic canon and within the opera industry. What was your inspiration behind the choice to focus on The Queen of the Night, as opposed to characters like Lady Macbeth or Mamon L'escaut?
Teiya: Yes. So the character, the Queen of the Night, that role I had sung many times in my career thus far and had done different productions here in Canada and also in Europe. And the trend that I was noticing was that you just kind of jump in. It's a very quick rehearsal process because we're expecting the Queen to behave in a very kind of two-dimensional way, that she is an ambitious woman, wants this power back and uses her daughter to try and get it, and also uses her position as a woman or her womanly wiles to get what she wants.
And I felt frustrated with that, that there was not so much exploration in the depths of her character as a woman, as a woman who was maybe usually overlooked as just being evil or ambitious, like I said before. And she sings for maybe a total of 10 to 12 minutes in this entire opera. However, people go home after seeing this opera always humming her famous melody.
*Hums* with those high notes. So I had this idea to ask questions about, you know, what is she doing off the stage because she's spending more time off the stage behind the stage or behind the stage backstage than she is actually on the stage singing and taking up space. So I started to explore that.
And what came of that was exploring how we push aside, dismiss women in general in this industry, but also in the repertoire. And we keep presenting these narratives of women either as these very innocent angel like characters who are young and who are naive, or the opposite women who are experienced, old, evil, ambitious, emotional, irrational, these kinds of things.
And usually they end up dying in some sort of fashion. So I wanted to explore the complexity of being a woman, playing a woman character, womanhood. And because I am someone who has experience of womanhood, that was something closely connected to my experience and my heart and wanting to change the narrative and be in control of this story. Awesome.
Sydney: And I think it's really great that in The Queen in Me, you're kind of using this as a platform to kind of break out of the roles that kind of society and I guess the operatic canon kind of demands and expects from women and just trying to show that you don't have to kind of fit into the mold. You can just be who you are and live your own truth.
And that's a really important message to send to the audience. So thank you so much for sharing that with us here. I want to dive a little bit into the behind the scenes of the making of The Queen in Me. You mentioned in the Making of The Queen in Me video that you were working with a dramaturge who had no prior experience in opera.
Was there a specific reason you chose to work with a dramaturge with no opera experience, in contrast to working with a dramaturge, with experience in opera?
Teiya: So the dramaturge that I was working with is also one of the co-directors of The Queen in Me, Andrea Donaldson, who is also the artistic director of Nightwood Theatre and I was actually, when I was first creating the show, I was part of the Emerging Creators Unit at Buddies in Bad Times Theater. So we were kind of placed with these with these director dramaturge, dramaturges.
And so I was very fortunate and happy to meet someone new within the theatre industry here in Toronto. And so it wasn't really like a choice, but it was just kind of, that was suggested for me. And I was I was very happy to to try that experience with Andrea. And I'm very happy I did because we're great friends now and we've been working together ever since.
I guess that was yeah, six years ago now, seven years ago, something like that. And yeah, six years. And so yeah, it's been it was really interesting because I had to express myself in using vocabulary and language that Andrea would understand in terms of where I was coming from, the experiences that not only I was going through, but what other maybe sopranos, mezzo sopranos, people who are singing these types of characters would be going through in the industry and what kind of positions they would have to be putting themselves into. So it helped me really clarify actually the intention of my story or of my text through every scene and what I wanted to say with the text. So because there was less kind of insider terminology that was going on between, say, a dramaturge and myself, I think it was a great way to be, to really start off the work of the show and the development of the show in a way that many people can find an entry point who, like maybe not, might not know anything about opera or who might be huge opera fans. So there's an entry point for kind of everyone, I feel, for this show.
Sydney: I can definitely agree with that. I am personally someone who has no opera experience whatsoever but I remember watching the trailers and The Making of The Queen in me, and I just remember being so invested in both the process and the actual development of a story and the story itself, just because in some ways I felt the Queen in Me kind of acts as a mirror where it's kind of reflecting the experiences of so many people back at them that through the lens of art and through opera.
So I definitely understand what you mean in terms of people with kind of no experience, like me, seeing this is kind of like an entry point to opera, in a way. So yeah, thank you so much for answering that question. As a wrapping up this interview, is there anything else that you would like to share? Do you have any upcoming work that we should be on the lookout for?
Teiya: Yeah, I'm doing a lot more performing now that things are opening up, which is wonderful. So my next project will be working with some young singers with Tapestry Opera on this workshop called New Opera 101. So we'll be working closely together on new operatic repertoire and then we'll all be performing it for a little concert that'll be at the end of April.
I'm also working on a quasi Japanese opera composed by Toronto- based Japanese musical artist Kokichi Kusano. The project is called Nae, which means Seedling, and that will be at the Harbourfront Center the first week of May. And then I'm doing an opera with the Canadian Opera company called Pomegranates at the beginning of June. And then I'm going to be doing my Butterfly project, which is an ever evolving, ongoing exploration of the Japanese melodies that Puccini used and appropriated in his opera Madama Butterfly.
And we'll be doing a live performance and bringing on some collaborators from Vancouver. That's what the Toronto Summer Music Festival on July 12th. So lots of different things.
Sydney: Awesome. So many great things to be on the lookout for. All right. Well, thank you so much, Teiya, for taking the time to sit down with us and your participate in our Meet the Artist spotlight. You can find Teiya's social media handles in the description box below and at the bottom of the transcript for this video. Thank you so much for watching this video and we look forward to seeing you in our next Meet the Artist Spotlight.
Teiya: Thank you, Sydney.
Keep Up to Date with Teiya: 
Learn more about Amplified Opera: