The Meet The Artist series highlights amazing and talented performing arts professionals from diverse backgrounds. To celebrate Asian Heritage Month, we are launching our Asian Heritage Month Artist Spotlight to highlight artists in the performing sector from Asian communities. We encourage you to engage with these artists with an open mind, and to remember that starting a relationship with an artist can be something smaller than a mainstage show such as inviting them to lead a workshop, sit on a panel, or collaborate with an artist local to you.
This month we invite you to meet featured artist Roshanak Jaberi.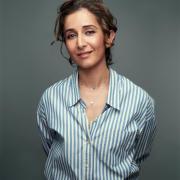 Roshanak is an Iranian-born Canadian choreographer, director, producer and a Dora Award nominated artist with a career that spans over 20 years. Described as a "force to reckon with," she has created and co-created over 30 works in dance, visual arts, film and music, has performed in numerous dance works, and has presented her work in Canada and internationally. Roshanak is the recipient of the ISPA-International Society of Performing Arts Global Fellowship (2020, 2021) and the Chalmers Arts Fellowship (2019), and holds a Bachelor of Fine Arts with Honours from York University. She has been a guest speaker and guest lecturer in various forums, and her work has been referenced in adult education courses and in critical pedagogy at the University of Toronto.
Can you tell us a little bit about yourself and Jaberi Dance Theatre?
I'm a director, choreographer, producer and performing working in Toronto. I established my company in 2017, although I've been a working artist for over 20 years. My team includes artists, researchers, community leaders and activists. We collaborate to create and share stories about the experiences of marginalization through live stage productions and more recently through film.
Your profile states that you experiment with a wide range of mediums to express your ideas as you work at the interface of performance, politics, people and places. Can you tell us about your relationship with art as a form of advocacy?
The early stages of creating new work is exciting to me because I can follow my curiousity without having to make sense of anything. Working with different mediums allows me to challenge myself artistically and doesn't limit my imagination. As Angela Davis says, art can make us feel what we haven't yet figured out how to say, that's what makes it such an effective form of advocacy. I was born and raised in a very political climate, so my formative years were influenced by the social and political landscape of my homeland. That carried through into adulthood and made its way into my art.
Coming from a family of artists, can you tell us about how you got your start as a dance artist? How has your family's work influenced your own artistic practice?
When I was a kid, I enjoyed watching my father paint and I have wonderful memories of him building toys for me. He taught me the importance of imagination and how to create art from everyday things. My mother sparked my love of storytelling. We had a weekly ritual of going to the neighbourhood bookstore and selecting books to read together. My younger sister who's a writer, has a passion for language and words. She's influenced the way I think about text in my work.
I loved to dance when I was a child, but I focused mostly on visual arts. As a young adult I got into music, and it wasn't until my late teens that I started to explore dance formally.
In March 2023, you toured a production in Ontario and currently have a dance film in the film festival circuit. Can you tell us a bit more about these projects?
In 2022 I directed and choreographed a dance film called Slipping with Karen Kaeja. The film explores psychological landscapes and will be screening at the 2023 American Dance Festival's Movies for Movers Film Festival this July.
The No Woman's Land production premiered in 2019 and was supposed to tour in 2021 but was twice delayed due to the pandemic. This year we were finally able to bring the work to audiences across Ontario. The project explores themes of migration, displacement and gender-based violence.
You're a choreographer, director, producer, dance artist, and guest speaker. What are some things that have helped you maintain a work-life balance?

At this stage in my career, I have the privilege of being be more selective with the engagements I take on. That helps me prioritize what I give energy and attention to. I also have a great team of dedicated collaborators who help support my work. But sometimes I still struggle with striking a work life balance. It's definitely a work in progress.
Is there anything else that you would like to share? Do you have any upcoming shows that we should look out for?
This season we have a lot to look forward to. We're starting the creation of new work and have several exciting projects on the horizon. The best way to stay in the loop is to follow us on Instagram @jaberidt or sign up to our newsletter through our website jaberidt.com
Keep Up with Roshanak and Jaberi Theatre: