The Meet The Artist series highlights amazing and talented performing arts professionals from diverse backgrounds. To celebrate Asian Heritage Month, we are launching our Asian Heritage Month Artist Spotlight to highlight artists in the performing sector from Asian communities. We encourage you to engage with these artists with an open mind, and to remember that starting a relationship with an artist can be something smaller than a mainstage show such as inviting them to lead a workshop, sit on a panel, or collaborate with an artist local to you.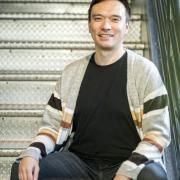 This month we invite you to meet featured artist Michael Caldwell. Michael Caldwell (he/him) is a choreographer, performer, curator, artistic director, producer, and arts advocate, based in Tkaronto, Canada. 

Garnering critical acclaim, his choreography has been commissioned/presented throughout Canada at major festivals, in traditional venues and in site-responsive and community-engaged contexts. Michael's most recent choreographic work responds to the 'site' in as many ways as can be conceived, and subverts traditional modes of viewing. He recently premiered 'Two x 30' - a large-scale performance/sound work as part of ArtworxTO: Toronto's Year of Public Art, and is currently working on two collaborative multidisciplinary performance projects. Caldwell is a two-time K.M. Hunter Charitable Foundation Artist Award finalist. 

Michael has performed/collaborated with over 55 of Canada's esteemed performance creators/companies, working internationally and performing across North America, Europe, Asia, and Australia. His performances have earned him two (2) Dora Mavor Moore Awards for outstanding performance in dance. 


Currently, Michael serves as Artistic Director at SummerWorks Performance Festival in Tkaronto, and as Programming Advisor for Festival of Dance Annapolis Royal, in Nova Scotia. Most recently, as Creative Director: Programming at Generator, he led the re-imagination of the overall governance structure of the organization, moving towards a co-leadership framework. Previously, Michael played a pivotal role in the growth and development of Fall for Dance North, serving as Executive Producer for eight years. He has also previously guided projects with CanAsian Dance, Dusk Dances, Older & Reckless, and Kaeja d'Dance's 'Porch View Dances'. In addition, he acts as a consultant with various arts organizations and as a mentor to many emerging artists/curators in the Tkaronto arts community.


With a bachelor's degree in film/art history from Syracuse University in upstate New York, and professional dance training at The School of Toronto Dance Theatre, Michael now serves as President of the Board of Directors at The CanDance Network.
Can you tell us a little bit about yourself and your work?
I am a cis mixed race, Southeast Asian gay man. I identify as queer, as an immigrant to Canada, and as a settler on this land. I carry and engage with a complex blend of identities that have suffered from, and enacted systems of racism, oppression, inequity, white supremacy, and injustice. I am a choreographer, performer, curator, artistic director, writer, producer, and arts advocate, based in Tkaronto.
My current research and practice is situated around ideas of intimacy and subtlty, highlighting the miniscule, the microscopic, and the miniature… connecting these ideas to larger ecologies (lanscapes and waterways) and systems (social, cultural, and political). There exists an ever-emergent and urgent desire to use the body to explore these ideas, and position this work in diverse spaces and places, though sustainable, community-engaged processes.
You mention on your website that you hold a degree in film and art history from Syracuse University. How does your background in film guide and inform your work as a dance artist?
It really offered me a language and a context with 'how to see' artistic work, and as a consequence, how to speak creatively and critically about it. More specifically, I learned about narrative and abstract structures, leading to storytelling and the relationship with the viewer. I understood the power and privilege that the auteur possesses; what to say and what not to say, what to reveal or conceal, and how to subvert traditions and challenge expectations.
Pacing, silence, flipping the script, the movement of the viewer, duration, the unseen - are just a few of the learnings from my film background that greatly inform my performance and artmaking practice today.
In an interview with Xtra Magazine, you spoke about travelling to Vietnam while working on your dance piece Ash Unravel as a way to connect with your mother's cultural heritage. What role does cultural heritage play in your identity as an artist and how does it influence your work?
About two years after my mother passed, I traveled to Vietnam for the first time, as a way to connect with her/my cultural heritage and absorb the energies from the land and water. As I've said many times since, Ash Unravel was the performance work that I had to create/perform in 2011, in order to make anything else in my career. It was my creative way of processing the loss of my mother, and moving forward.
I am most intrigued in conversations about identity that do not focus on aesthetics, but rather on working values, and energies and sensations, in relation to people and to place. Much of what I absorbed in Vietnam continues to influence all of my creative work.
Travelling from Ho Chi MInh City to your mother's countryside village of Can Tho provided you with a new perspective on your cultural identity and being emotionally vulnerable. How did this new perspective influence the creation of Ash Unravel? 
It feels strange to speak to an experience that happened so long ago, when so much of my travel; my movement from one place to another, has influenced my creative practice and my performance work.
I have been so lucky to travel so much within my career, and each new place brings forward a unique perspective that challenges me to look inside myself - to question my own beliefs, thoughts, and emotions.
"The real voyage of discovery consists not in seeking new landscapes, but in having new eyes" - Marcel Proust
Do you have any advice for emerging dance artists of colour?
To remember that you have ultimate agency with when, where, and in what manner, you bring forward your identity, whether that's in conversation, in writing, or in your artistic work - even though others will try to define these parameters for you.
Is there anything else that you would like to share? Do you have any upcoming shows that we should look out for?

I have recently moved into the role of Artistic Director at SummerWorks in Tkaronto, and I'm so looking forward to the Festival, from August 3-13, 2023. SummerWorks expands the possibilities of performance by asking crucial questions; nurturing artistic innovation; and presenting new works that reflect the complexity and diversity of our society.
Keep Up to Date with Michael:
Learn more about SummerWorks: