The Meet The Artist series highlights amazing and talented performing arts professionals from diverse backgrounds. To celebrate Asian Heritage Month, we are launching our Asian Heritage Month Artist Spotlight to highlight artists in the performing sector from Asian communities. We encourage you to engage with these artists with an open mind, and to remember that starting a relationship with an artist can be something smaller than a mainstage show such as inviting them to lead a workshop, sit on a panel, or collaborate with an artist local to you.
This month we invite you to meet featured artist Bad Muse Collective.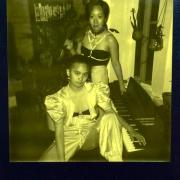 Bad Muse Collective is founded by Maddie Bautista and Deanna H. Choi – two sound designers who make music-driven performance authentic to the first-generation Asian-Canadian experience. Love You Wrong Time – a yellow fever cabaret and their first art baby premiered in April 2023 with the support of Nightwood Theatre. It was a sold-out success – with Toronto audiences snapping up all the tickets before opening night. The Bad Muses found their voice through the support of Soulpepper Theatre's Shen Festival, the Feminist F*ck It Festival, the Creators-in-Residence program at fu-GEN Asian-Canadian Theatre, and Nightwood Theatre.
Can you tell us a little bit about Bad Muse Collective?
We founded Bad Muse as we developed Love You Wrong Time - it sums up our ethos of being cheeky and provocative and playful. We want to make performance that intertwines all disciplines - music, dialogue, dance, visual art, design - and subverts tropes with comedy and absurdity. We started working on Love You Wrong Time back in 2017 and the production team has grown to include numerous artists including Erin Brubacher, Helen Yung, Kaileigh Krystofiak, Michelle Kwan, and Michael Wanless.

Deanna — you mention that the study of human perception and behaviour continues to inform your artistic practice. How does your background in behavioural neuroscience and the performing arts influence your work as a storyteller?
Many people ask me this question assuming that they are opposite fields, but in reality, they're actually two sides of the same coin. Neuroscience is the empirical study of human behaviour, whereas theatre is the artistic expression of human behaviour. I love trying to understand how and why people act the way they do, whether it's rooted in the social, cultural, political, economical, or even biological underpinnings of our growth as individuals and our evolution as a species. As we explain (albeit more cheekily) in Love You Wrong Time, it comes down to research. There are so many different ways to research a topic, whether it's crafting a study or conducting phone interviews or previewing a show with test audiences to see how they react under various circumstances.

Maddie — your sound design includes directing writing for a 20-person choir for an outdoor Shakespeare play, singing and playing piano for a rock-opera about yellow fever,  and combining lush, orchestral sound with recorded and gifted Tagalog song. I'm curious to learn more about how you blend sounds from different genres to tell a story through song.
Music is loaded with context. History, memory, politic, time, place, people. The power of combining genres is the power to make things that might just be abstract ideas audible. When it comes to performance, I spend tons of time immersing myself in listening to music and research and finding my own relationship to the music. I ask – why? Why does this song have this particular rhythm? What animal or task or place does it remind me of? What does it feel? Rather than approaching combining genres from a technical standpoint, I like placing these sensations together in my mind and then composing something fresh.
In Love You Wrong Time, we take our audiences through a romp through many different genres to add unexpected pieces of context to the songs and stories we are smashing together. I don't think we double-dip in the same genre throughout the whole show.
During the month of April, Bad Muse Collective premiered Love You Wrong Time with the support of Nightwood Theatre. The show is described as a "hilarious, no-holds-barred song cycle featuring two friends looking for love while contending with the fetishization of Asian women through the mediums of music, true stories, bar games, and K-pop choreography". Can you tell us a little bit more about the creative process behind the unique formatting of the show?
We didn't initially set out to write a show about Asian femme fetishization. We were certainly interested in something that overlapped our shared identities (as Asian-Canadian theatre sound designers), our varied histories (as Filipinx/Vietnamese and Korean individuals), and the performance (and performativity) of sexuality. We wrote dozens of songs and musical numbers that never made it into the show, but were a musical sandbox where we could try new ideas and experiment with different genres and forms. We made songs by looping lyrics based on Craigslist ads, we digitally sampled audio clips from pornography and distorted them, we tried contact improvisation and abstract movement work, and so much more. After doing a couple of workshop performances, we realized how funny a lot of the material was and how engaged the audience was with our personal anecdotes, which is when we started fleshing out more opportunities for audience interaction. That's where the "bar games" and the stand-up comedy vibe came into play. 

Is there anything else that you would like to share? Do you have any upcoming shows that we should look out for?
We both have sound designs coming up at the Stratford Festival this summer: A Wrinkle in Time directed by Thomas Morgan Jones(sound and music by Deanna) and Les Belles-Soeurs directed by Esther Jun(sound and music by Maddie). We are very excited for these productions and hope that audiences will have a chance to catch them.

In terms of Love You Wrong Time, we'll be launching a website this summer that features photos, videos, and upcoming tour dates so stay tuned! We'll be announcing it through our social media channels (IG: @xlqpopart, @deanna.h.choi and on Twitter @splitbrainsound).

Keep up with Bad Muse Collective: