Ontario Presents and its member presenting organizations recognize the importance of presenting Indigenous artists, stories and culture as part of their presenting practice. As we continue to encourage the respectful presentation of Indigenous art, we will be featuring an Indigenous artist each month in our e-newsletter and blog. Our sincere thanks to Denise Bolduc for conceiving of and continuing to support this Spotlight Series.
Started in 2018, the Indigenous Artist Spotlight series is intended to foster greater awareness and understanding of the strength and diversity of Indigenous art available in Ontario and beyond. As Indigenous and non-Indigenous artists face an incredibly difficult time, we will continue to spotlight inspiring Indigenous artists. The next several spotlights will feature artists who will perform at the inaugural Nogojiwanong Indigenous Fringe Festival.
Find all of our past Spotlight interviews here 
This month we spoke with comedian Stephanie Pangowish.
Stephanie connected with Natalie from OP via Zoom, so this interview is available in video or transcript form!
To start off, can you tell us a bit about yourself and your work? 
Ya for sure, my name is Stephanie Pangowish. I'm originally from Wiikwemkoong on Manitoulin Island. That's where my mother's from, my father's from Sagamok, which is about an hour and a half northwest of there. I grew up in both the communities and kind of moved around: Sudbury, and Sault Ste Marie, and now I reside here in Toronto with my two children.
I started doing stand-up comedy around 2015…  But it's been something that I've always wanted to do. Since then, I've been learning about my voice and my perspective on life. And I've been performing around First Nation communities and urban Indigenous communities. 
I'm currently a Master's student at York University, doing my Master's in Education. And facilitating beadwork workshops, I include a bit of humour in there. But my main focus is to always bridge the gap between Canadians and Indigenous people. Share a platform for them to learn while also making it funny.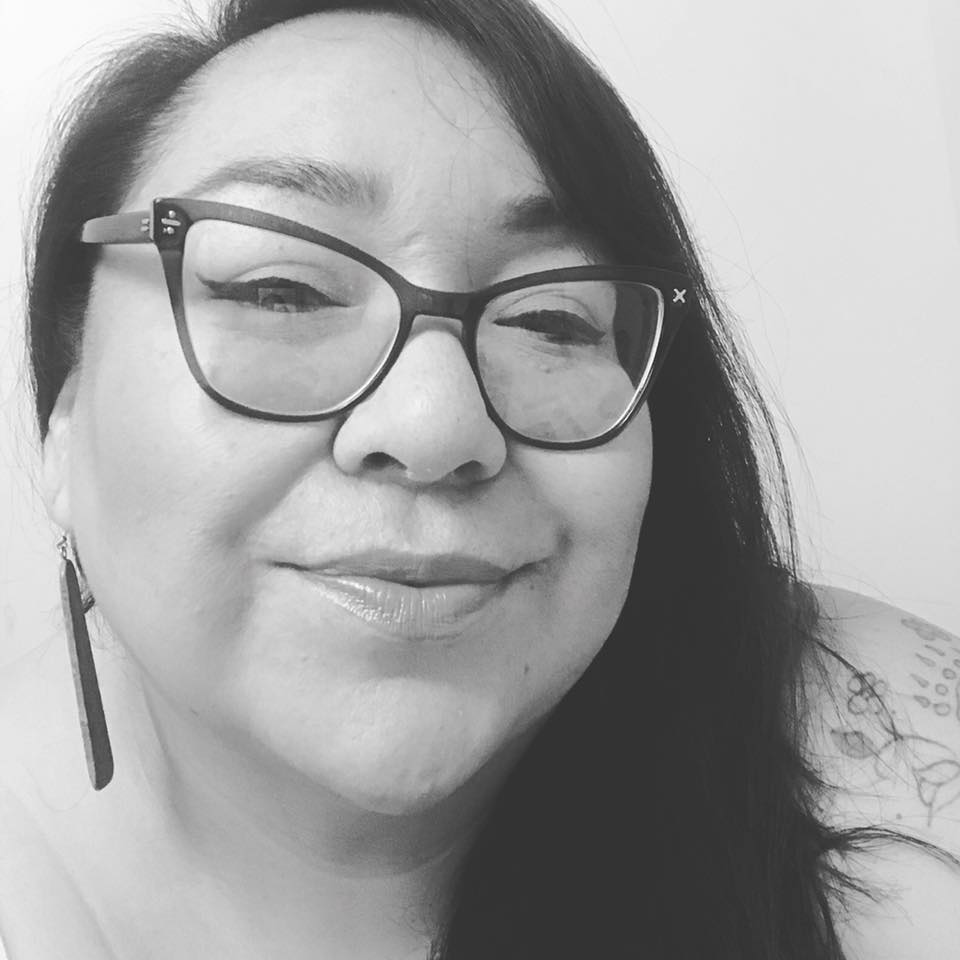 You have your comedy, your beading, you're also a pow wow dancer… and you do workshops. How does that all fit together?
I'm just basically a super Indian. Anything that has to do with being an Indian, that's me.
How do you balance all those things in terms of your time?
Well, right now, pow wows are cancelled due to COVID, so my weekends are open to writing, focusing on school, and working with other artists and community members to come up with some online ways of community engagement. Whether it's through beading, or comedy, or just storytelling in general. 
I guess it gives me a bit of a break too. Because I started MC-ing pow wows too. Mostly men have been doing that work for many, many years. I think last year or two years ago I started getting into the pow wow trail as an MC and sharing the female perspective on pow wows.
You said you're doing your Master's in Education, what's your focus in your Master's?
Definitely humour, Indigenous humour. And ironically, when I started doing research, I couldn't really find too many articles on specifically Indigenous humour. But I'm slowly starting to gather resources. There are books out there, there are small articles from other writers when it comes to talking about Indigenous humour. So that's basically my focus, I'm going to stick with that and learn as much as I can while I'm doing my Master's.
… it's quite funny. The more that I think about it, the more I think… Canadians, they're not exposed to Indigenous humour. From what they see, it's all seriousness and blockades and talking about treaties, things like that. Those are the same things that Indigenous comedians talk about, but from a humourous perspectives.
Speaking of which, I recently interviewed D.B. McLeod, who mentioned you in her interview because you're both part of the comedy group Manifest Destiny's Child. You were one of the co-founders of that group, how did that come about?
So I was working at a provincial Indigenous organization, and one of the Program Directors was talking about how her husband had bought her these tickets to do this comedy program called Comedy Girls. It was a place for women to come and learn how to do stand-up comedy. And when she completed that program she said to the teacher, wouldn't it be great if there was a program like this just for Indigenous women, would you offer that? And the teacher… her name was Dawn Whitwell, she said, "Ya, if you can gather enough Indigenous women, I will offer the program."
So she announced that at a staff meeting, and I just got super excited… I went out and posted all over social media, started talking to people, and we ended up finding enough Indigenous women to have the class.
We did the first six weeks, then did our first performance. And then we did the second level together, and it was just so much fun we didn't want to stop. Even though they made us wake up at, you know, 9 in the morning on a Saturday to go to a 10:00 class, we just left there feeling invigorated and empowered because we're all kind of coming at it from a similar perspective. From an Indigenous woman's perspective, and there weren't many platforms to hear Indigenous women's comedic perspectives.
So it was mostly the women from that original class that became Manifest Destiny's Child?
Yes, there were seven of us originally. Right now, a couple of them have moved out of this city, a couple of them had babies, and others are focusing on other areas in their career.
Because a lot of the women in that program have been career-focused on Indigenous community in general. Some are teachers, one is doing her Master's in Arts, creating films. Another one is a Health Policy Analyst. She does a lot of community work going out to communities in Ontario.
So there's a wide range of people and careers that we are engaged in and that they continue to do. So there are only about two or three of us that still regularly do comedy. 
Do you still perform together?
Actually our last one that we performed at was in February. We did a show at the Glad Day Bookstore. Celeste Hayward was in town from Calgary and she was the main person that announced the program. She said she was in town and it would be good if we had a Manifest Destiny's Child reunion…
I didn't think I was going to make it, because I had come from home on Manitoulin. I had just finished doing an Indigenous youth comedy workshop over at Birch Island, which is right by Manitoulin. I was there for a week, did some beading workshops and comedy workshops, and then we had the grade 5s and 6s doing a comedy show at the end of the week, which was really cool. So I was done there around 1pm, I looked at the time and was like, "Oh my god, there's a show tonight, I wonder if I can make it?" So I started driving, and I literally pulled up to Glad Day 10 minutes before the show started.
So I made it and we had our official reunion, which was amazing. We had it on Facebook Live, it was fun. Great vibes, nice to get back together with the ladies.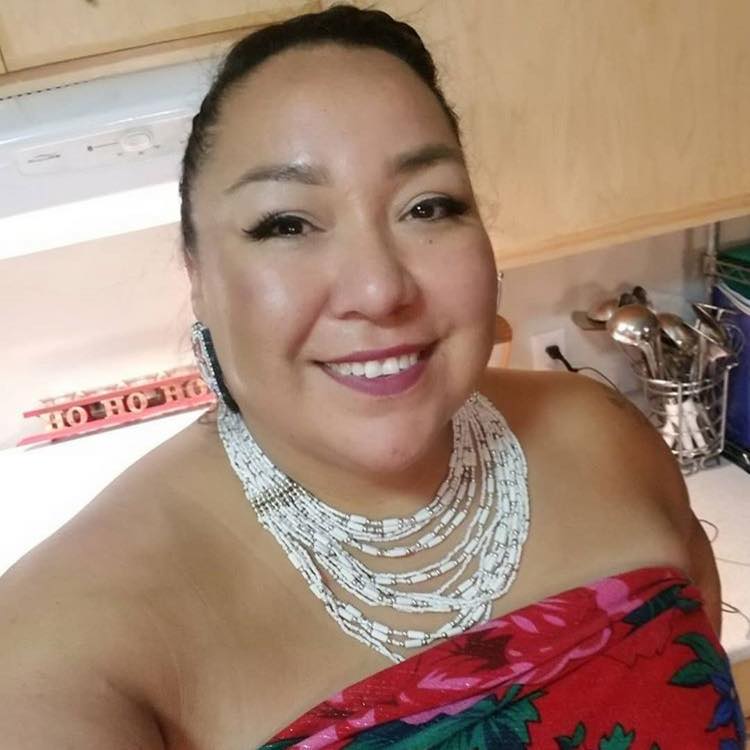 That was in February, obviously things quickly changed after that. You were talking before we started recording about some workshops that you're doing now online. What's your day to day looking like now?
I've actually been working with some community organizations to facilitate some beading workshops, I'm working with Humber College to have different styles of earrings that we're making together. I'm one of the co-facilitators. We're going to be working together for about 10 weeks to create earrings. It's a space for Indigenous women who are students or alumni from Humebr College to participate. So we get to sit there and bead, and share a little bit of our knowledge on beading. And then there's all kind of other natural things that happen. You know, sharing of how to grow different plants, or how to grow different medicines, or stories that people share about their family's history.
So we get to learn a lot from each other, rather than just learning about beading. We call it Tea and Bead.  So we get to sit there for a couple of hours on Tuesday evenings, do some beading and visit with each other. Especially during with these times you know, it's hard to find that social avenue to be amongst the community.
And I started doing some workshops, actually this evening will be the first one, I'll be working with Two Spirit of the First Nation. We'll be doing some pop sockets, so beaded pop sockets, we'll be making this evening and then we'll finish it up next week.
And then through Humber, we're also going to be doing a web series, me and fellow Anishinaabe comedian Ryan McMahon. We'll be talking about self-care, through a comedic perspective again. It's gonna be fun and engaging, we're gonna be talking to the audience, it's gonna be live… We're going to be having one every month for the next 3 months. We'll have four shows.
We'll be talking about culture, land, water responsibilities, health and wellness. We're gonna be sharing some tips, we're gonna talk about other Indigenous people in the community that have books out there that can help us, resources that are in the community, it's gonna be good!
… We just actually did a test run today to figure out what it's gonna look like and how it's gonna sound. I was a bit nervous because I haven't done a show live on a social media platform yet. So I was a bit nervous at first, but I think I'm prepared now.
I was going to ask you about that, the experience of shifting to digital for this time. How are you finding that?
It's gonna be quite interesting. Because as a comedian when you're onstage you kind of feed back and forth the energy, right? So I guess through the engagement of people typing and having a co-host, you get to feed each other the energy. With that, and then hearing the responses from the participants or viewers, I think it will be able to create a similar type of atmosphere.
But we're gonna see how that looks. So far I've seen a couple of comedians perform online. It looks a bit tough but I think it shouldn't be that hard… hopefully!..
… People have asked me to perform solo, and I'm just wondering what that's going to be like. What would that look like for me to perform solo? So I'm like, do I record my kids laughing in the background?…
Ya it's really difficult, it's not the same experience. We're all having to make due with digital but it's not the same…. I hope we can get back there eventually
Ya me too. I had quite a few opportunities lined up before everything started. And slowly but surely they started getting cancelled, all my gigs… It was kinda scary there for a moment. I was like, "Oh my gosh, how am I gonna pay for this?" So I started beading, and beading, and beading… beading's an addiction. I'll sit there for days and create, I have to remember that I have to shower and stuff.
Well it's good that you have several creative avenues and one of them is not impacted by the social distancing.
Ya, I'm quite fortunate. I really love everything I do. I have to say I'm quite blessed with enjoying everything that I do right now… when it comes to school, the things that I read, it's all about Indigenous literature, Indigenous culture, resurgence, everywhere I go I pick up things to talk about for comedy. Whether its pow wows or evening class. We talk about all kinds of crazy things. And I get to be inspired by a lot of other Indigenous people, you know. So I'm pretty blessed, I'm happy with the way things are going…
You mentioned picking up content and ideas wherever you go. I noticed that you do talk in your comedy about pow wows. Why do you think they're such a good mine for your comedy?
Because… I dunno… there's such a great energy that happens at pow wows and that needs to be shared. There's so many, you know, interesting relationships that happen. There's so much laughter and love that happens on a pow wow trail. And being able to share that on stage with other pow wow people. Because we all kind of share this similar experience.
And even observers, they can kind of gain an insight into what it's like to be a pow wow person. To be on the trail, travelling, dancing, what's that like? What's it like to be a singer? I feel like it's also a place that not a lot of other Indigenous comedians have explored as much. So I think it's definitely one of the places that I like to create jokes about.
Ya it seems like there's a lot there
Oh ya, lots. And there's a lot that I can't say on here!
Well people will just have to go watch your comedy. Speaking of which, where can people find you?
Right now I'm on social media. Actually I just got a Facebook ban on my original page…I share a lot of interesting memes. Actually, some of my comedy too, talks about sexuality. I'm trying to create a platform for Indigenous people to be able to start having those conversations with each other or having healthy love with oneself… 
… But I also have my own page, for the comedy, which is just my full name (Stephanie Pangowish), it's the business page.
If anyone is interested in the beading that I do, I do have a beading page called Beadoon Bling. Beadoon in Ojibway means "bring that over here."
You can also find me on Instagram under PangowishComedy, and Beadoon Bling for beading.
This interview has been edited for length and clarity. View the full interview in the video above!
Thanks so much to Stephanie for chatting with us.