Started in 2018, the Indigenous Artist Spotlight series is intended to foster greater awareness and understanding of the strength and diversity of Indigenous art available in Ontario and beyond. Find all of our past Spotlight interviews here. This month, we spoke with Indigenous dance artist Sandra Lamouche.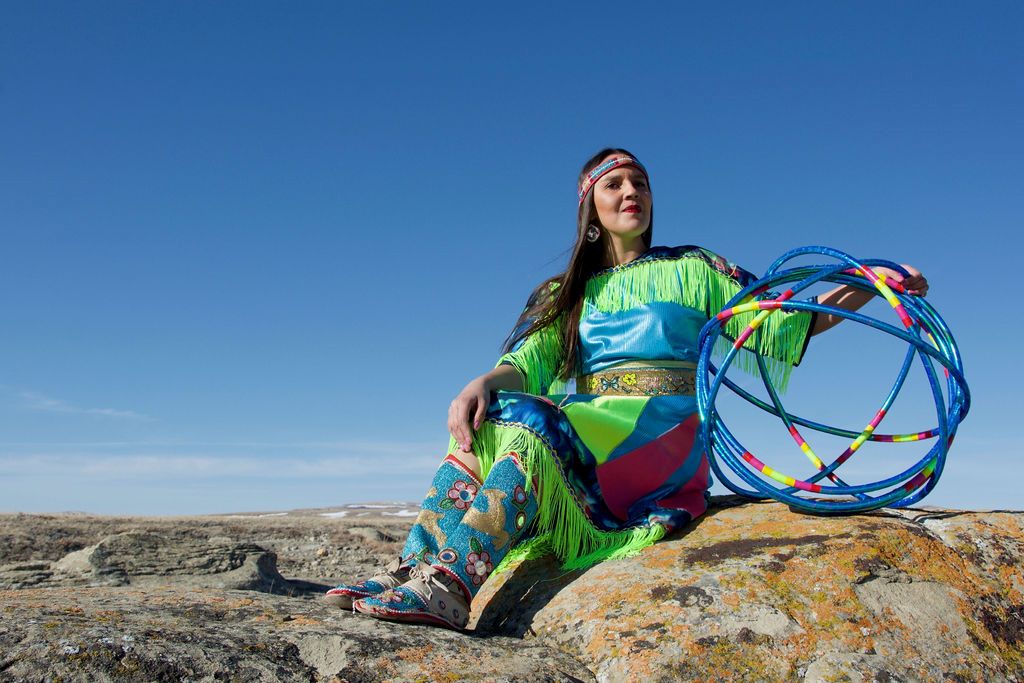 Sandra Lamouche is a member of the Bigstone Cree Nation in Northern Alberta. She is a champion hoop dancer, an award-winning Indigenous education leader, TEDx Speaker, author, a multidisciplinary storyteller and artist. She completed her master's thesis on Indigenous Dance and wholistic well-being. The hoop dance and its teachings of unity, balance, equality and interconnectedness of creation influence her creations. This often includes land based practices, environmental and climate related topics as well as, social justice issues include advocacy for Missing and Murdered Indigenous Women and Residential School Survivors and their descendants, both which have impacted her and her family.

Can you tell us a little bit about yourself and your work?
Tansi! Sandra Lamouche nitsikason. I am a member of the Bigstone Cree Nation. I started dancing as a child doing tap, jazz, ballet, lyrical, modern dance and learned some traditional powwow dances and jigging. It wasn't until later that I learned the hoop dance and saw Indigenous contemporary dance, these are the practices that I currently focus on. As a hoop dancer I was asked to share the story of the dance and my own story, over the years this led me into public speaking, storytelling and writing. Hoop dancing also required me to make my own outfits and beadwork, which has led me to become more interested in visual art as well. The hoop dance is about all of creation and symbolizes unity, balance, and equality. This influences most of my work which is often focused on land, environment and social justice issues.
In March 2022, you premiered your performance piece Land Back, a multidisciplinary exploration of the theme of Land Back and returning to land and culture, as part of Shooting Gallery Performance 11's virtual programming. How did your relationship with land inform your creative process for this piece?
This work was inspired by the Land Back movement and I looked at the Yellowhead Report titled Land Back. I was struck by the impacts of environmental destruction on Indigenous peoples as being referred to as 'compounding ecological grief'. This resulted in my piece being more about taking up space, healing, and creating sacred space on the land. I chose locations that I am connected to, but also have significant history to local Indigenous and non-Indigenous communities.
I'm wondering if you can share a little bit about the process behind formatting a place-based performance piece for a virtual audience.
It starts with being connected to the land and spending time on the land. Many of my pieces are inspired by the time I spend going for walks, gathering medicines, and being by water. A lot of things cannot be controlled when working from land based performance, weather, lighting, wind, etc. So being flexible and also going with what the environment is, being led by nature and landscape, being shaped by creation around you. Working with the land and not against it, even if that means for some pieces I have done, exploring the exploitation of land.
Do you have any advice for artists who are looking to create and audiences who are interested in engaging with place-based performance but don't know where to start?
I would recommend getting connected with the land itself or with local arts and environment groups and organizations, galleries, museums, and festivals. I think knowing the history and landscape, plants, animals, and stories of where you are is important as well. Rather than representing the land or place in its entirety, it is better to think about your specific relationship to that place, that is what makes you unique and will help avoid any misrepresentation of other people, ideas or cultures that may not be your story to tell.
You mention that a lot of your work takes place at the confluence of land-based practices and celebrating the creative power of women and the earth. I'm curious to learn more about your relationship with the performing arts as a platform for advocacy.
The hoop dance is a major influence. It is a healing dance but the story and meaning is also about unity, equality, inclusion and balance. It is also a symbol for creation. So for me it is naturally more in tune with creation and the environment to also be inclusive of diversity, this includes anti-racism, social justice, advocating for human rights, women's rights and environmental justice. I also wrote my thesis on Indigenous dance and wellbeing using a holistic perspective. In my research it showed how connected healing is with self-determination and how our traditional teachings were not oppressive. This is a gentle way of teaching, often done by experience, and role models, not by lecturing or punishing, and often it is women who are leading this way and this work. From very early on I knew that I valued justice and equality and it was also reinforced by the values and teachings from my family and culture, so I feel it is a natural human state, and the violence, oppression, exclusion and individuality is not natural, but also it could just be me and who I am.
Is there anything else that you would like to share? Do you have any upcoming work that we should look out for?
I will be doing a variety of shows throughout Alberta and BC in dance and theater. In October I will be part of Honor Beat being shown at the Yates Theater in Lethbridge. I will be doing my first keynote in October as well, and will be focusing on a playwriting residency with Gwaandak theater, and a new choreography for the winter and spring months. My short dance film will be shown in Ottawa and Edmonton which is called ;'Honouring the Children' and is for the survivors, and those who didn't survive, residential schools as well as future generations.
This interview has been edited for clarity and length. Photograph of Sandra Lamouche courtesy of Define Yourself Photography.

Keep up with Sandra