Started in 2018, the Indigenous Artist Spotlight series is intended to foster greater awareness and understanding of the strength and diversity of Indigenous art available in Ontario and beyond. Find all of our past Spotlight interviews here. This month, we spoke with Indigenous dance artist Samantha Sutherland.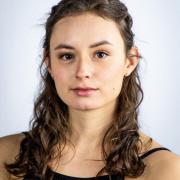 Samantha is an Indigenous contemporary dance artist, choreographer, and teacher based in T'karonto.  Her ancestry is Ktunaxa and Scottish/British Settler.  She graduated from the Arts Umbrella Dance Diploma Program in 2018.  She has worked with Ballet BC, Red Sky Performance, and is currently an Artistic Associate with O.Dela Arts.  Samantha has presented her own solo works in the Matriarchs Uprising Festival by O.Dela Arts, the Paprika Festival, Sharing the Stage with the National Ballet of Canada, Night Shift, Common Ground Dance Festival, Weesageechak Begins to Dance, and at the National Arts Centre.
Can you tell us a little bit about yourself and your work?
I am a contemporary dancer, choreographer, and teacher here in T'karonto. I am Ktunaxa from the Ktunaxa Nation, which is in British Columbia in the eastern portion of the province, and our territory dips down into the states. I grew up on the west coast of Canada on Coast Salish territories, trained there as a dancer, and did a little bit of work there before moving out here to Ontario. Right now in my choreographic works, I use the kind of tools and vocabulary that I learned in contemporary dance in more Eurocentric training, but I use what I value from that training to tell my own story as an Indigenous person. That's how I see myself blending contemporary and Indigenous art forms, that's what it means for me — I can use what I know to tell my own stories in my work.
I'm curious as to what inspired you to pursue a career as a dance artist.
I am one of those people that started dancing when I was a tiny little child. I was always doing baby ballerina classes, and that led to normal ballet classes, and then that led to competitive dance, which then led to, "Oh, I maybe want to take this a bit more seriously." So I went to a professional training program in Arts Umbrella in Vancouver, which then led to a dance diploma program, so I feel like I kind of stumbled into it.
I was always wanting to take the next step in it, in dance training, in education. I never wanted to back out of it at any point. I never had a thought like, "It's not for me", or "I wanted to do something else." It feels like I kind of like naturally stepped into it.
I don't know if I ever had like a thought like, "Yes, I am going to be a dancer and I'm going to choreograph." And for the stuff that I'm doing now, if I had told myself that five years ago, I would've been like, "Absolutely not. There's no way you can do that. That's not what you want to do."
So I think my path has been formed very naturally, just through the relationships I've made and the opportunities I've been lucky enough to have. It is a very natural pathway into dance and obviously, it's a very hard profession, being a freelance dance artist. I think being a freelancer is not always something I saw myself doing. But it's been really rewarding. It's been a very rewarding career so far.
On the topic of evolving as an artist and as a dancer, can you tell us a little bit more about your work with Red Sky Performance and O.Dela Arts?
In 2020/2021, I was working with Red Sky Performance as an associate artist. I got to be in one of Jera Wolfe's new creations. It was called Flow. That was for Fall for Dance North, and that was a really, really fun creation period. The dancers I met, they're friends for life. And I still work with Jera here and there and have kept close contact with him. It's been really fun to get to know him as an artist and a choreographer. He's fantastic.
And O.Dela Arts is a company run by Olivia C. Davies, who I am now an artistic associate with. I first met her in Vancouver in 2019 at her festival, the Matriarchs Uprising festival. It was the first time that I saw Indigenous contemporary dance and I was fresh out of Arts Umbrella Dance, and I kind of only knew of the Western contemporary ballet world. That was the world I thought I was going to be living in. And my Indigenous Ktuanxa identity was kind of something on the side. But then I saw all these dancers and this festival that was existing like, "Oh, these dancers, these dancers are living in a contemporary dance world, but they're pulling in their identity and like their stories and their language and movement and music" and I was like "Woah!" It completely blew my world open.
And I kind of went up to Olivia during one of the workshops, like, "Hey, I want to do this." I was just completely blown away. So I was like, a little baby went up to Olivia, like, "Hi, I'm Sam." That's where I really just started, and I kept in contact with her in Vancouver again, going to the festivals, kind of saying hi here and there at different shows. She introduced me to Raven Spirit Dance as well, to kind of continue to open up my world. And then during COVID, I applied to do one of Matriarchs Uprisings' film versions of the festival, and I got into that. I was now working as a choreographer and artist in the festival, not just as an audience member. That was where my relationship with Olivia deepened, and since then it's just kind of taken off. I continue to be involved in the festivals now. I do more work behind the scenes with the company for the festival and have continued to perform. I do some curatorial work as well, and the mentorship I've received from Olivia has helped me along as I start my choreographic career.
Speaking of relationships and mentorship, do you have any advice for emerging Indigenous dancers?
I mean, I still feel like one, so it's hard to give advice. But, find a connection to either your culture, your community, your family, or your ancestors. Find something that makes sense to you and figure out what that means for you, and keep that with you every single day.
One thing that my like language teacher Alfred Joseph says all the time is you have to be Ktunaxa every single day. And that's been something I've been trying to live with a lot. No matter how strong your ties are to your community, I know people have varying ranges of connection. It doesn't mean you're a better Indigenous artist or not because you have more or less connection. Like, it really doesn't matter. You just find what it means to you, and if you want to deepen it, great.
Just like, kind of always see where you're at and know that you're not alone. I struggled with a lot of imposter syndrome when I got into this, and know that whatever you are doing, your work is valid.
Is there anything else that you want to share? Do you have anything that you should be on the lookout for?
Right now, I have a show that I don't know if I can officially announce here, so I just keep that under wraps. I'm in a place right now of creation, getting new things going. I had a really great year last year of presenting two solo works. I feel like I'm kind of in the, like, scheming, boiling soup pot, mixing things up mode right now. So I think there will be things to come in the next couple of years. I just don't know what yet.
This interview has been edited for clarity and length. Photograph of Samantha Sutherland courtesy of Jeysa Caridad.
Keep up with Samantha
O.Dela Arts
Matriarchs Uprising
Red Sky Performance