Ontario Presents and its member presenting organizations recognize the importance of presenting Indigenous artists, stories and culture as part of their presenting practice. As we continue to encourage the respectful presentation of Indigenous art, we will be featuring an Indigenous artist each month in our e-newsletter and blog. Our sincere thanks to Denise Bolduc for conceiving of and continuing to support this Spotlight Series.
Started in 2018, the Indigenous Artist Spotlight series is intended to foster greater awareness and understanding of the strength and diversity of Indigenous art available in Ontario and beyond. As Indigenous and non-Indigenous artists face an incredibly difficult time, we will continue to spotlight inspiring Indigenous artists.
Find all of our past Spotlight interviews here
This month we spoke with actor, playwright, and creative producer Cheyenne Scott:
Cheyenne Scott is Straits Salish of the Saanich Nation/Norwegian settler descent and an actor, playwright, and emerging creative producer with a focus on new works. She is a Dora Mavor Moore nominee for co-creating Now You See Her (Quote Unquote Collective/Why Not Theatre/Nightwood Theatre). She played Julia in the world premiere production of Children of God (Urban Ink/NAC) and continued with the show for two other tours across Turtle Island (Citadel/WCT/Segal Centre). 

To start off, can you tell us a bit about yourself and your work?
I started out as an actor. I've always been pretty shy but acting has allowed me to express myself in a whole new way and I love the 
process of transformation. I am particularly interested in new Canadian and Indigenous works that are relevant to their audience. Collaborating on new works as an actor is the most exciting to me and I get a thrill out of inventing a character for the first time.
Then, I discovered my voice through playwrighting. Creation gave me a whole new sense of agency where I could address topics that are important to me. I enjoy the exploration, play, collaboration, and imagination that come with storytelling. My work focuses on contemporary Indigenous stories of healing. I've played a lot of young Indigenous women who have died or are sexually assaulted, or both. Therefore, I am striving to round out the narrative and share stories of resilience, strength, joy, and that are made with the well-being of Indigenous audience members in mind.
I began to have a shift in my career when I started working with inPath teaching drama to Indigenous youth across Turtle Island. The youth really taught me that the art is meant to serve the community. This has led me to start thinking about the industry in the larger picture. I've recently started creative producing at The Theatre Centre where I am training to support other artists and their stories. 
In a past interview, you noted that "Having friends and hobbies outside of theatre and the arts is extremely necessary" – this is something that those of us in the arts are not particularly good at. It is easy for the arts to become your job, your hobby, and your social circle. So how do you maintain those other interests and relationships?
For me, balance is key. It's definitely a challenge to maintain but that balance also helps protect the joy of the art. Brainstorming is not really something that I can just turn off, but speaking with people with other experiences and participating in my other hobbies also help nourish my creative process by allowing me to discover new ideas or a new point of view.
I think in the past I had a fear that if I wasn't in the art world all the time then "I was missing out" or "not working hard enough" and I needed to give myself permission to have those other relationships, and interests. I think that I am more of a well-rounded person because of that and ultimately it strengthens my art practice.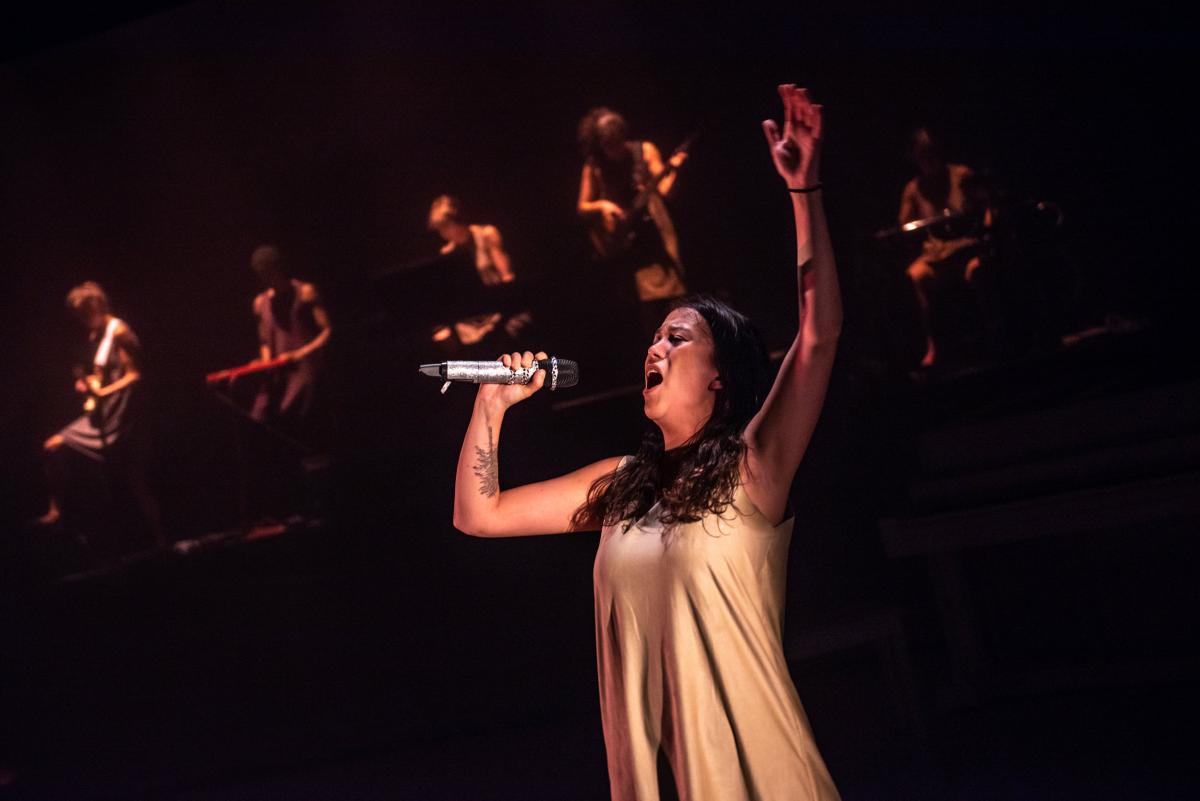 In addition to theatre, you have done a lot of interdisciplinary work, particularly in media arts – how has your interdisciplinary practice evolved over time?
I do have a curiosity for interdisciplinary work because so much is unknown about it and I don't think the industry has really confirmed one way that it "should" be done. That mess of possibilities makes creation really fun for theatre and I am still in a learning phase. Right now, I am teaching in the Cree community of Nemaska with media artist Brit Kewin, where we are experimenting with the combination of theatre, puppets, and film! 
Your bio states that "Having learned theatre through a colonial process, [you are] working to Indigenize [your] practice" – can you speak a bit about that? What has the process of Indigenizing your practice looked like for you?
This has been an extremely healing process. I often struggle with the term decolonizing because it puts an emphasis on the extraction but I'm coming to terms that it has been a part of the process for me to identify unhealthy learned behaviours such as pushing myself to overwork even when I'm sick or injured and feeling guilty for it. I like to use Indigenize for my practice because it gives me a direction and roots me in my Saanich values.
My art practice means showing up with my full self, adjusting the process to the moment, and serving the community. I've started embracing my land-based and experiential research. For me this means that the writing and inspiration comes from a connection to land through observation or through experience such as hunting and fishing. I am currently developing my first solo show entitled Tackle Box, inspired by my experiences salmon fishing with my family on my traditional territory and explores this methodology. I am also learning Indigenous practices from an administrative point of view with Urban Ink as an artist-in-residence, where I am receiving mentorship in artistic directing and developing the second draft of my play Wolf Cull.
Of course this is a really difficult time for everyone, and especially artists. How are you approaching your practice and your own well-being during this time?
I really miss performing and collaborating in the studio! However, I've been taking this time to focus on my professional and artistic development. With everything going virtual I've been able to take advantage of having access to working with Urban Ink in Vancouver as artist-in-residence while also training with The Theatre Centre in Toronto.
It's also been nice to reassess and Indigenize my approach to my art in a way that is not time sensitive or product-driven. My goals during this time of exploration are self-determination, balance, and joy. I've been trying to find alternative ways to connect with friends such as online gaming, and I was able to have an extended visit with my family this summer for the first time in years. I've been spending lots of time outdoors, whether bike riding, fishing, hunting, or snowshoeing. I hope to hold on to this connection to all my relations while developing my craft so that when the curtain rises I can bring my best work.
Find Cheyenne on Instagram at @ch.scott
Thank you to Cheyenne for sharing with us! 
Photo Credits (top to bottom)
Photo 1 – Cheyenne Scott, photo by Dahlia Katz
Photo 2 – Cheyenne Scott in Now You See Her, photo by Dahlia Katz