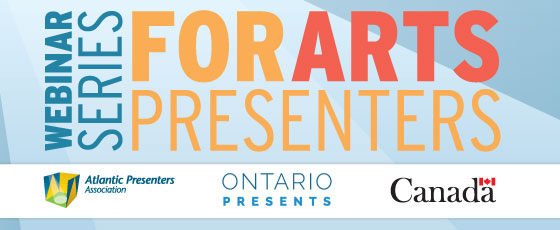 With support from the Department of Canadian Heritage, Ontario Presents and the Atlantic Presenters Association have joined forces to present a "Webinar Series for Arts Presenters."
The first webinar took place November 12th. Titled "Making better decisions: The Do's and Don'ts of Research in the Arts," with Inga Petri,
Participants were guided through a typical arts research project in order to better understand: 1) The building blocks of an effective and efficient research process 2) When and how to use surveys, focus groups, customer data analysis and secondary research sources to aid better decision-making 3) Specifying and recruiting research participants 4) Learn to avoid common pitfalls in questionnaire design, from using effective rating scales to collecting useful demographic information 5) Privacy (PIPEDA, CASL) and ethical considerations in marketing research with Canadians.
Multiple representatives from the following organizations were in attendance:
Acadia Performing Arts Series
BUFS
CAPACOA
Carousel Players
City of St. Catharines
Columbia Basin Rural Development Institute
Crimson Coast Dance Society
Debut Atlantic
Deep Roots Music Cooperative
Department of Canadian Heritage
Government of PEI
Indian River Festival
L2 Productions
Made in BC - Dance on Tour Society
Media Arts Peterborough
Minto Arts Council
Neruda Arts
Niagara Falls Museums
Ontario Culture Days
Orillia Concert Association
Orillia Opera House
OSAC
Ottawa Little Theatre
Port Hope Jazz Inc.
Razzamataz
Revelstoke Arts Council
Sarnia Concert Association
Showplace Performance Centre
Town of Petrolia
Tuckamore Festival
Yukon Arts Centre
"It was really important to be reminded that marketing research must begin with identifying a marketing problem. The attention to biases was also extremely relevant." Frederic Julien, CAPACOA

"This will inform us when designing surveys and evaluations that we put out to our membership, and as a result hopefully enable us to better meet their needs." Rosemary MacCallum, Organization of Saskatchewan Arts Councils (OSAC)

"Excellent webinar, very helpful to any organization trying to establish reliable, believable metrics." Al Cushing, Yukon Arts Centre
Read more about our Webinar Series for Arts Presenters.