"Along with the beauty of all the dancers and the choreography is also the beauty of the spaces that we're in."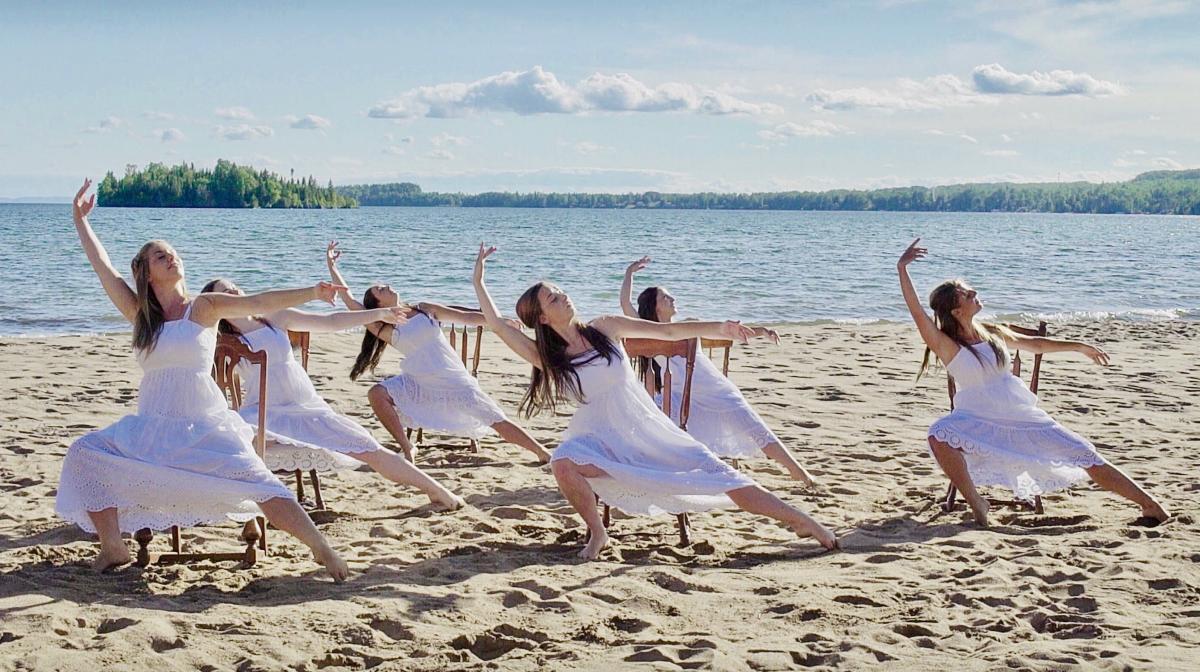 Photo: Dancers Alisia Cameron, Denise Malette, Amber Priscott, Maggie Wilberforce, Cassandra Rhodes, and Harmony Appell 
Due to the pandemic, the Superior Theatre Festival couldn't go ahead with a community-wide dance project as planned. But rather than cancel, Artistic Director Donna Marie Baratta took the opportunity to turn the project into a film-based experience that would still celebrate the city of Thunder Bay and its connection to the water. Here, she talks about how it all came together.
Tell me about undercurrents.
When I originally conceived of the project,  it was for the 50th anniversary of Thunder Bay, and I wanted to put together a project that spoke to that history. I was thinking a lot about the waterfront in Thunder Bay which has always been a site of both industry and pleasure, but it is also a site of change in the city landscape. 
So, I commissioned six different artists to create music that they thought spoke to Thunder Bay in some way. I gave them some suggestions and small prompts to think about, but I said it's up to you to create what it means to you. They are all working with a very different sound, one's blues, one's pop, one's electro-pop with the drum and other indigenous sounds - that's Classic Roots. Rodney Brown does a whole folk tune that is all about different places in Thunder Bay and the different parts of Thunder Bay that people would know. In one of our pieces we used some material from Thunder Mountain Singers, a First Nations group that did a lot of creating and performing here. So all of those elements are very different - we're trying to give a broader sense of the eclectic nature of both the sound of this place and the people that live here.
I invited all the dance studios in the city to participate and four of them each choreographed a piece for one of the songs. I was having a hard time finding a First Nations dance group until a friend introduced me to David Wilkinson-Simard who ended up starting up a new First Nations dance group in conjunction with this project. He had just returned to Thunder Bay and was getting reconnected to the artists in the community. His dance group is called Thunder Bay First Nations Dance Group and I'm sure it will keep growing, because the people that he's been working with have been so wonderful. 
And the 6th one is a community dance project?
Yes, the one that I'm directing/choreographing was supposed to be a complete community project where everyone signed up online and it would be 50 people dancing for the 50th anniversary. And that was going to be the last piece that would be performed - people would move from one location to another and then they would end up in the Spirit Garden to see the last piece. Of course that definitely shifted as the contingency plan for the festival kept changing. 
Most of the community members that did apply to be involved, ended up having some dance training in the past, for instance, they may have danced as a kid. But there are people that I didn't know - that's the exciting part! Our biggest challenge was getting men involved in the project. The two men in our piece had to be specifically invited to be a part of the film. But everyone that was in the project was so much fun, so awesome, so loving and lively and generous with their time, and we all had such a good time. For me that was the huge benefit of the project was just that people were able to come together and meet new people and have a good time.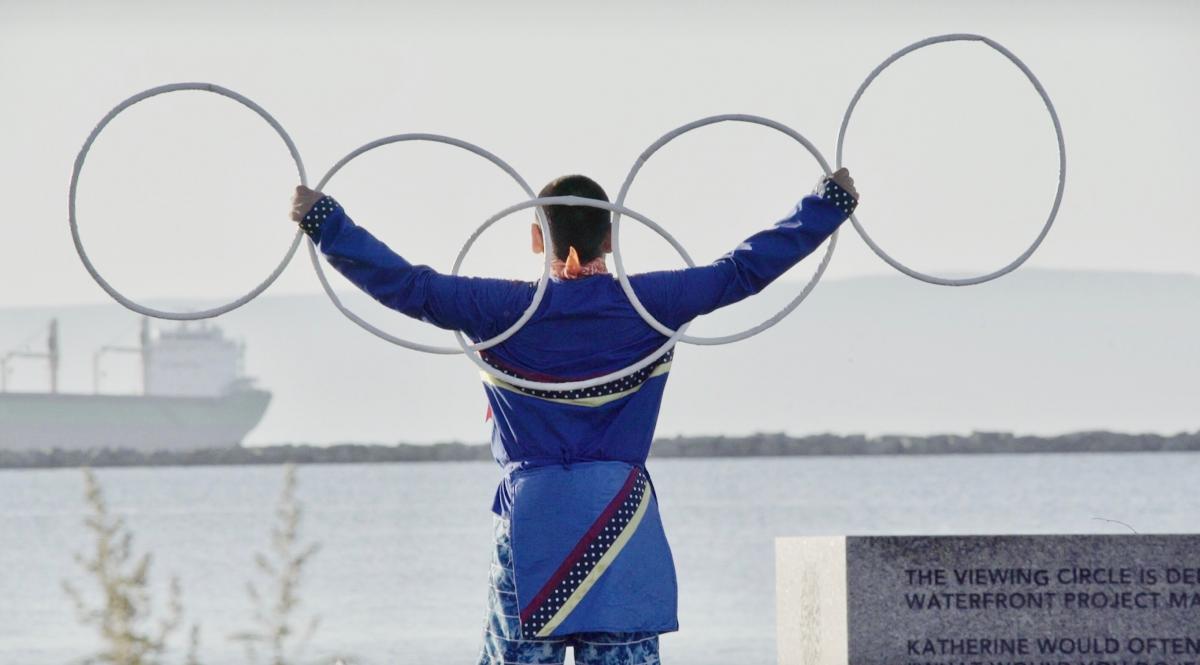 Photo: Dancer Kinew Councillor in rehearsal for Woodlands Groove by Classic Roots.
And what does the project look like now?
The project is no longer ephemeral - we're going to have something in our hands for years down the road: six short dance films. And each of them are still in the location that they were originally going to be in - they're all on the waterfront. We're using the iron ore dock, which gives us an industrial feel, and we're also using a beach, and water, and a bridge, and we've moved around the city to give a feel of the city of Thunder Bay as much as we can.
As things opened up a bit quicker here, the biggest grouping is 7 dancers, and with the skeleton crew, we had 10 people [on set] at the very most. So it was quite easy for us to maintain a very small set, social distancing rules and be a bit more nimble with this project. 
And you've been working with a filmmaker?
Yes, Victoria Anderson-Gardner is working with us. She is in her last year of film school at Ryerson. She's a person I originally connected with in Toronto a couple of years ago, and we found out we were both from this area. I realized that she had moved back home recently, so I got her involved. And now she's doing the editing over the next two weeks before we release the films. 
And what's the plan for that release?
We plan to release one film a day for each day of the Festival. So that will be on our website and connected to our youtube channel, and we'll be all over social media with the announcements each day. 
Thanks for sharing your project with us!
I really appreciate you reaching out - because dance has always been vibrant here in the city, but the news of it doesn't often travel. There's a big history of dance here, and so it's my pleasure to hopefully get the word out and let people know what's actually happening in the community. Now that we have the recordings, these films, I hope the city (one of our sponsors) will use them to help promote arts and culture in Northwestern Ontario. Because along with the beauty of all the dancers and the choreography is also the beauty of the spaces that we're in. And that will show off how gorgeous the city is.
Read more and see the bios of all participating artists here.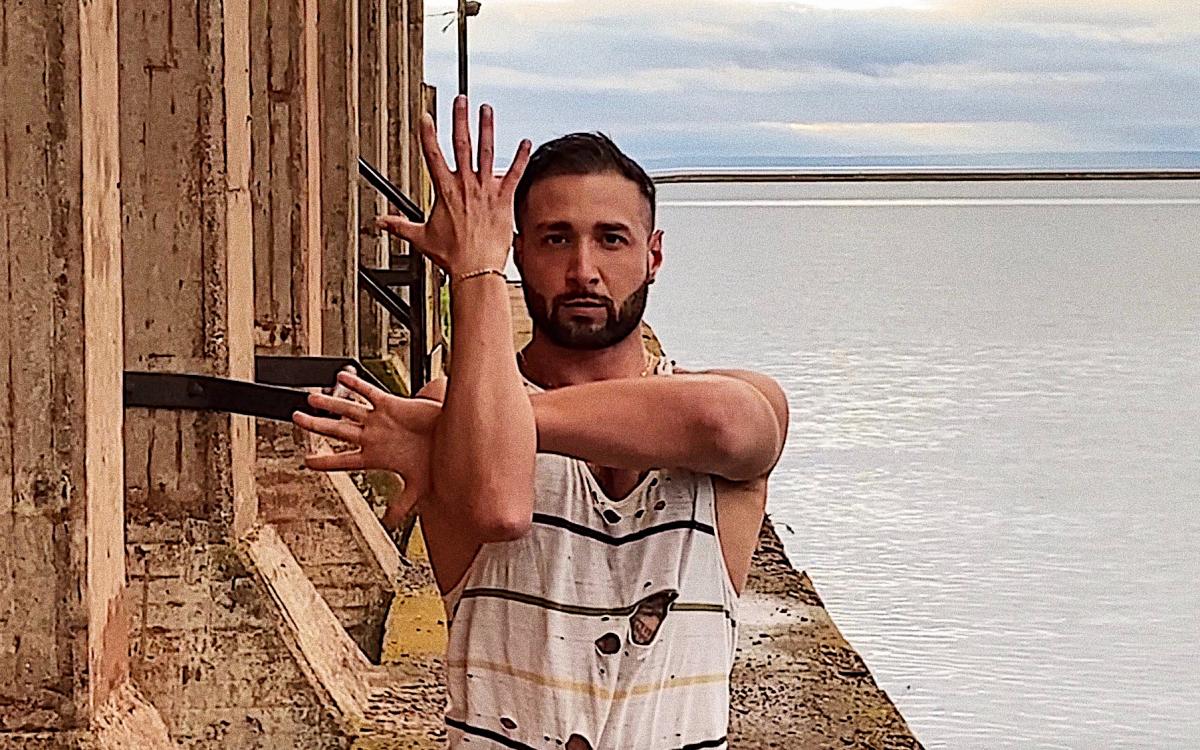 Photo: Dancer Daniel Stilla in rehearsal for undercurrents - the Community Dance Project.
Bright Thoughts is a project of the Alliance of Canadian Dance Networks, seeking to share the moments of creativity, inspiration, and mutual support that we are seeing from presenters and arts organizations across the country. This interview was originally shared in the ACDN newsletter on August 14.