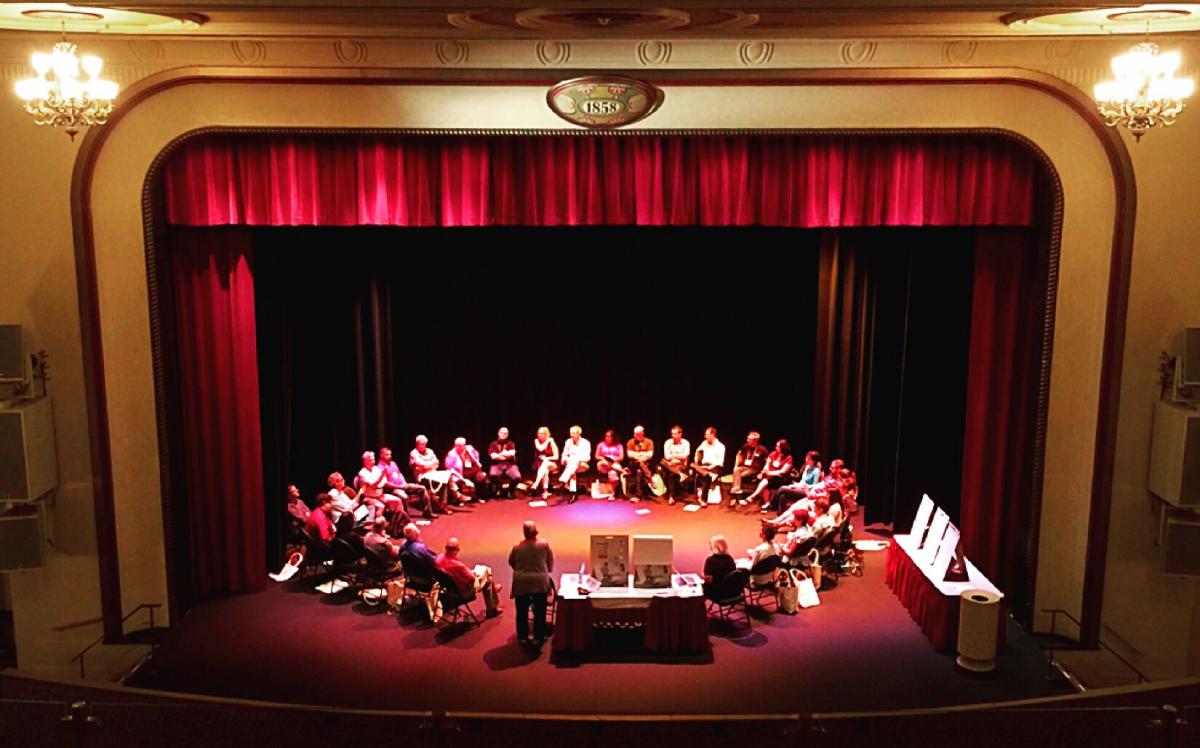 Thanks to all the members who joined us in Brockville for Ontario Presents' 2015 Spring Retreat! Special thanks to Peter Dunn and his team at the Brockville Arts Centre for a wonderfully hosted event.
Over thirty members from across Ontario came to Brockville to join their colleagues and learn together. Members from the following organizations attended the retreat:
Brockville Arts Centre
Brookside Music Association
Burlington Performing Arts Centre
Canada's Ballet Jorgen
Centre In The Square
City of Kingston - Grand Theatre
City Of Ottawa - Centrepointe Theatres
City of Brampton - Rose Theatre
Flato Markham Theatre
Kawartha Concerts
North Grenville Municipal Centre
Oakville Centre for the Performing Arts
Ottawa Little Theatre
Port Hope Friends of Music
Prologue to the Performing Arts
River Run Centre
Sanderson Centre
Showplace Performance Centre
St. Clair College Capitol Theatre
The Registry Theatre
The Royal Conservatory of Music
Zacada Entertainment
The retreat started with a breathtaking Sunset Dinner Cruise of the 1000 Islands.
On Thursday, participants generated rapid, facilitated discussions in pairs and small groups to reveal Four Bold Ideas for the presenting field.  These are:
Embracing the Complex Marketing Challenge
Immersive Technologies
Cultural Environments that Welcome
New Business Models and New Narratives
These broad themes emerged through the use of Liberating Structures (www.liberatingstructures.com) - modules of questions posed by facilitators Jane Marsland and Judy Harquail that crystallized into actions that will be pursued by members with support from OP staff.  Thursday's intense patterns of discovery relaxed into collegial conversations over drinks on the patio of Bud's Bar and a lovely evening dinner at Brockville's historic The Mill Restaurant overlooking the St. Lawrence River. 
On Friday participants reconvened to develop strategies and action plans charting their course to the future before leaving for home with much to reflect upon.

At Thursday's dinner, Executive Director Warren Garrett thanked the Brockville Arts Centre's Peter Dunn and his wonderful staff for their warm hospitality and the staff of Ontario Presents - Kaitlin Cockburn, Mila Ovchinnikova, Judy Harquail and Jane Marsland - for organizing the retreat.  He then announced that the 2016 Spring Retreat will be held at the Charles W. Stockey Centre in Parry Sound at the invitation of OP member, Lynn Middaugh with dates to be confirmed.
A couple good reads were brought forward by Eric Lariviere that are certainly "a propos" from some of the key challenges and opportunities that were discussed during the retreat:
The combination of inclusive voice facilitation, fabulous food, dining, and cruise made it not only a memorable event, but one that provided solid, Big Ideas to move us forward.