The Annual Blue Sky Day offers members the opportunity for collaborative learning, reflection and networking.
This year's Blue Sky Day took place on Tuesday, September 24 and was hosted by Rob Mackay, Manager, Cultural Services at the Milton Centre for the Arts. 
Nearly 40 delegates from across Ontario attended the event.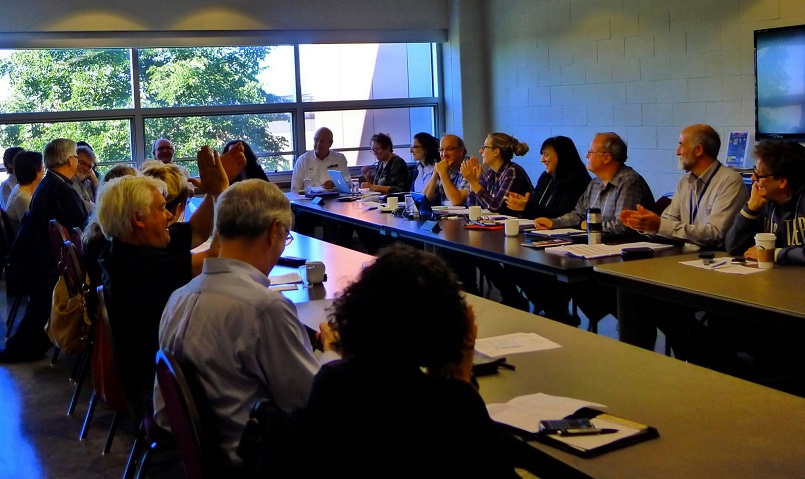 Download the list of delegates
The day started with the first block booking session of the year and the discussion about the audience mapping tools. 

In the afternoon artists, agents and managers were welcomed to join presenters for lunch and the afternoon sessions.
Warren Garrett opened the afternoon sessions with the summary of sector's conditions based on the recently conducted member survey on personal, professional and organizational wellness.
CCI staff provided an update on the CCI's programs and services: Cheryl Ewing gave members an overview of the upcoming Ontario Contact in Kitchener; Judy Harquail talked about OAC's Ontario Dances and Theatre Connects programs and Community Engagement Resource Tool; Mila Ovchinnikova provided an overview of CCI communications tools and member services.

Members asked questions, provided feedback and shared truly exciting stories about their work. They also had a chance to discuss future plans and talk about how they can work together to ensure a relevant and sustainable performing arts sector.

The day ended with a facility tour offered by our generous host, Rob Mackay.  Members explored a backstage peek of the theatre spaces, while learning about the history of the facility's evolution and design.
To view pictures form the event click here
#CCIBlueSky on Twitter