- by Julie Fossitt, Marketing Manager, Cultural Services, City of Kingston
It is impossible to keep track of all of the latest and greatest tools that are available online. Startups come and go, and you need to invest your time and energy in the free and freemium tools that will be around for a while. Here is my curated list of my favourite sites and apps to help arts marketers spend their money and time more wisely to achieve better results. 
For your website
Google Alerts
At the start of every season, I subscribe to a weekly Google Alert of all of our visiting artists. I have linked my Google account with my work email, so I will get regular emails of certain artists in the news, which is great for current news about artists that can keep your website information current and fresh. You can set the frequency of the alerts and change your preferences anytime.  Free.
Hubspot's blog topic generator
Content marketing is a really important part of populating websites, blogs and social media, but it's hard to think of creative blog topics on a regular basis. Using Hubspot's blog topic generator is an easy way to get the ideas flowing. For example, I entered "Ruthie Foster", "blues" and "guitar" and got some topics like "15 Best Blogs To Follow About Guitar" and "What Will Guitar Be Like In 100 Years?".  It's not a perfect science, but it's worth a try.  Free.
Open Site Explorer
How many other sites are linking back to your website? The more sites that link to your site, the easier it is for potential customers to find you on search engines. Just add your website url at https://moz.com/researchtools/ose/ and you will find out not only who is posting links to your pages, but also where your website is not appearing. Free.
Unbounce
Have you ever wanted to run a special promotion on a blog or social media and then drive people to sign up for your email newsletter? Unbounce lets you created customized landing pages without having to pay an expensive web developer and works beautifully if your website is built on Wordpress. You can also do A/B testing, so you can create two different pages and see what one performs better. This is a bit advanced for your average person, but it integrates with many programs like MailChimp and Constant Contact, so worth spending a bit of time checking out and make your promotions really work.  Starts at $49 per month.
For social media
Canva
This online design program comes pre-loaded with all of the sizes you need to create Facebook cover images, profile pics, Twitter posts, and many other standard sizes of images needed for social media. You can also create a custom-sized image, which I have found really handy for email newsletters.  You can see some graphic examples on my Linked In post.  Free if you use your own images.
IFTTT
These quartet of consonants stands for "if this, then that". This tool connects more than 200 apps to save you time.  They call these connections 'recipes' and there are hundreds of them.  For example, you can post photos on your theatre Instagram account and automatically save every pic to your Dropbox. Or, if you have really important emails you want to hang onto, select those and have them saved automatically to Evernote.  I found out about this tool from arts administrator Ceci Dadisman on ArtsHacker. Read Ceci's post here and there is a great list of IFTTT recipes for marketers on seeinteractive.com.  Free.
Sumorank
Simple go to Sumorank and plug in your Facebook page. It will then tell you your most popular post type, your rank for similar types of pages , your best day and time to post and average engagement per post type and number of characters. This type of information will help you schedule your Facebook posts and craft the most effective type of posts for you audience. Free.
Personapp.io
How well do you know your audience? Sometimes a profile and a photo can help. I use the highest indexing profiles from our Environics Analytics research and create some personas of our subscribers and single ticket buyers for different types of shows. Go to personapp.io to create a name for your persona, a job and build a profile to share with your team. This will help you craft your messaging, choose the right tactics and keep your audience in mind. Free.
For more ideas, visit some of blogs that I follow on a regular basis… created just for arts marketers.
Watch out for a future blog post that will feature the best tools to increase your ROI by saving or raising money.  
About Julie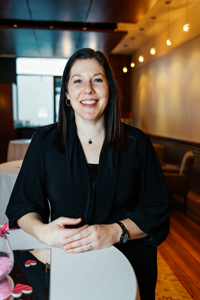 Julie Fossitt is the Marketing Manager for Cultural Services at the City of Kingston. The core services for this portfolio include targeted marketing, product development and pricing, partnerships, cultural tourism and the measurement of cultural participation. You can connect with her on Linked In, Twitter or Instagram.